Paulo Barroso – Top Internet Marketer Interview
May 26, 2015
By Team Business For Home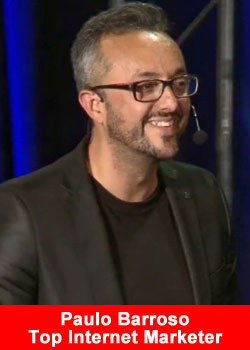 Paulo Barroso, from the UK, London is one of the few real Top Internet Marketers in the world.
Born in Portugal he moved to the United Kingdom when he was 18 years old and he is a high 6 figure Income Internet Marketer.
He was voted as one best Internet Marketer/Direct Sales in 2014 and is followed by a large crowd on Facebook.
He went to London on a 3-week vacation in 1989 and loved it so much and found the city so exciting that he decided to go back to Lisbon (Portugal) pack his bags and move to London permanently, because he fell in love with the multicultural life in the UK. Paulo has been living in the UK ever since.
English not being his first language, at first he struggled big time with the language barrier, and did various manual jobs like bar work and even MacDonald's before his breakthrough on the internet. He just wanted to make enough money and work from home so he could spend more time with his little kids, Paolo is married and has a boy of 15 and a girl of 11 that he adore's.
Ted Nuyten had to honor to interview Paulo Barroso.
Paulo, how did you got involved into Internet Marketing and Network Marketing?
I started to look online for a business that would allow me to work from home as I was getting frustrated with "corporate life" and the commuting to work. Tried all sorts of different programs, MLM's, and even those crazy 'make a million dollars in 30 days programs', but I had the win the lottery mentality and of course… noting worked for me.
I must have spent over $20,000 in crazy business opportunities over these past years, and I was at giving up point… I then came to the conclusion that if I was to succeed online I would have to find a mentor who would obviously be more successful and then just follow his path and I would be OK
By pure luck (or call it "Law of Attraction") I came across a Top Internet Marketer and he had a program I joined.
The Barroso Family
What magic secret did he teach you?
My online business really snowballed from that chance meeting. He taught me about Mindset and how to think for myself without following the "herd"… I truly believe now that "succeeding online… is a 'state of mind…' I remember he clearly saying to me "I can teach you the mechanics of marketing easily… I could even teach a monkey how to do marketing, But having the right "mindset" it's hardest thing to teach people"
He was so right..! I have achieved that now and I am no longer in a j.o.b (just over broke). I now make my own destiny and decide how many hours I work, when to wake up and how many holidays I take with my family in a year.
Paulo Barroso – Mindset
What is Internet Marketing all about?
This for me is where real freedom comes from. It's not about the money anymore for me, but the freedom to do what I want and when I want it… at my own time without being under the "thumb" of any bosses or companies bureaucracies.
My focus now is helping people – That's right, the more people I help, the more satisfaction I get…and it doesn't have to be about the money all the time. Sometimes helping people freely gives me an enormous amount of pleasure and I am a true believer in Karma… "what goes around comes around"…
So my goal in life is to be of service to others. I remember someone saying to me once: "Paulo you find something in life you really love doing, then help others the best you can to achieve whatever they want in life and the money will follow" I totally believe in this way of thinking now.
Paulo Barroso On Stage – Miami USA
So helping people earn money on the Internet is your primary goal?
My primary goal is now to help as many people as I can, who also have their own dreams and goals. To become financially free and stop living their lives like "slaves" to a 9-5 job they probably hate, and to free people from the system I like to call "The Matrix" that keeps people from achieving their own life dreams.
Paulo Barroso at work 🙂
What is your mission?
My mission is to create at least 10 on-line millionaires in 2015-2016. Everything starts with having the right mindset or the winners mindset as I like to call it.
I used to be the most negative person that walked this hearth and I wondered why as I always broke hated my LIFE and suffered from depression 3 years ago. It wasn't until I found a mentor that taught me about reprogramming my mind for success and changing my whole mindset that I started to become a successful online entrepreneur.
Today I have a very positive attitude and a winners mindset that helps me immensely in succeeding in business. In my view this was the missing ingredient.
You could have the best mentors in the world teaching you business or marketing, but if you have the wrong mindset in my view that is a recipe for disaster.
In short, if you want to achieve success in life, look for someone who already achieved what you want and then simply follow their steps!
Contact details Paulo Barroso:
www.facebook.com/hilitemarketing