Ralph and Paige Irizarry – Ambit Energy's Top Income Earners
May 19, 2015
By Team Business For Home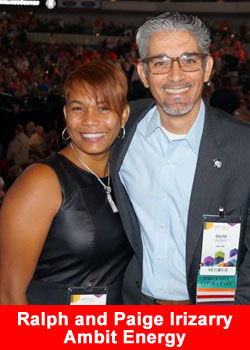 Ralph Irizarry is the President and CEO of Irizarry & Irizarry Assoc., Inc, a commercial insurance agency founded in 1993. He had been Working 60-70 Hours a week for the last 21 years.
Ralph wanted a change, being in the industry for 21 years at the time new that making a change would be difficult. In 2007, Paige Irizarry lost her position as a title abstractor and $40,000 per year left the household.
"We had just bought our home in 2006 and needed to make some quick decision". Ralph, wanted to truly spend more time with his 3 son's Caleb, Elijah and Jonathan so how could he go about this? Starting another brick and mortar business? Doing that would not allow him to spend more time with the family.
Ralph Irizarry, had the privilege of being exposed to Ambit Energy back on August 7th, 2007 by a New York City Police Officer through an elder in his church that approached him. The elder was excited his son had started a business and wanted Ralph to take a look at the opportunity. Ralph scheduled time to come over to show him a product-less company that he said was "recession proof".
Ralph Irizarry was excited about the opportunity and the potential but did not have much support from my wife. Ambit Energy, a startup company at the time only had a $1,000,000 in revenue. A company that was founded by Jere Thompson the grandson of the founder of 7-11 and Chris Chambless a former senior executive for Excel Communication. "That is all that was known about the company, the Ambit Story had not yet been written.
Ralph Irizarry's reputation was on the line but he knew that if the Thompson Family was a part of Ambit Energy, a start-up company, he wanted to give it a shot. Ralph quickly started inviting people to view the business plan at a local meeting hosted by local leaders and a guest from one of the Top Income Earners in the company, Steve Thompson.
Ralph Irizarry became a Regional Consultant in 30 days enrolling 6 consultants and having each of them gather 3 customers, in 4 Months he became Senior Consultant working the business once per week while operating an insurance brokerage.
As the checks came in the mail, Ralph had proven to Paige, his wife, that the business could be achieved without taking much time away from the family. Ralph jokingly states "Direct Deposit became a preferred method from that point forward". Paige Irizarry is now able to be a stay at home mom, a homeschooler and a business partner all in one. Paige, is truly a Proverb 31 wife.
The Irizarry Family

People often ask me, "How much did you earn at the beginning when you started with Ambit Energy?
I understand residual income, I understand that it takes time to build a business and that nothing happens overnight. I understood the timing and how Ambit Energy was only in the 5 boro's of New York and Texas. I also know how to be transparent and real. People need this in the network marketing industry where people exaggerate their income and positions to impress people. Ralph stated that from August 10, 2007-12/31/2007, a 4 month period he earned just over 10K, not bad considering he was working the business a few hours per week.
1/2008-2009 he earned an extra 24K. "I was getting excited now", he states. In 2009-10 Ralph & Paige earned 32K and from 2010-2011 they earned 63K. Never quitting was key. We also never turned back or blamed people for our learning experiences. Keeping your yourself surrounded with like-minded individuals such as Executive Consultant Maria Sanchez, SC Shaun Marks and RC Sardek & Thida Win Love allowed us to become Top 50 Income earners in 2012 and 2013 out of 250,000 Consultants country wide. The company now has over 400,000 consultants.
Ralph Irizarry works Ambit Energy 4-6 hours per week on a part time basis while receiving a full-time salary from Ambit Energy and running his insurance brokerage. He no longer works 60 hours per week as an insurance broker and Ambit Energy has allowed him to be selective on the accounts he wants to handle. Ambit Energy has bought back his time. The Lord has blessed our family with new friends. We look forward to new business partners in the future. We are excited about what the future holds for many.
Contact Details Ralph Irizarry: