SAMI Direct Launches Health Drink Approved by FSSAI
May 11, 2015
By Team Business For Home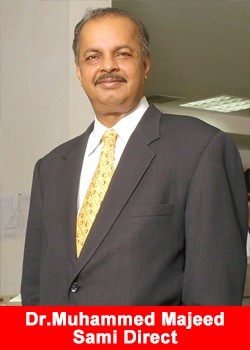 SAMI Direct, one of the fastest growing direct selling companies in India and a subsidiary of the award winning ingredients innovator Sami Group, launched a natural refreshing health drink Saberry® Drink Mix.
According to the company, it is a natural refreshing drink with an exotic punch of original fruit flavors to help manage metabolic stress and rejuvenate the mind & body. It has been approved by Food Safety and Standards Authority of India (FSSAI).
Saberry comes in a pack of 10 sachets. Each sachet contains 6.5 gm of drink mix with no added sugar or preservatives. It is manufactured and produced to cater to Indian consumers, and can be purchased from independent distributors of Sami Direct.
Key essential ingredients in the product comprise Emblica Officinalis Fruit Extract (Saberry), Beet Root Extract (Sabeet), Garcinia Cambogia Fruit Extract (Citrin K), Vitamin B12 and Moringa Oleifera Leaf Extract (Moringin). The product contains eight fruit flavours – apple, banana, pineapple, pomegranate, jamun, cranberry, grape and orange.
Commenting on the launch of the new instant drink, Rajesh Kumar, CEO, SAMI Direct, said, "The demand for health supplements has been growing multifold, identifying the need and trend of leading an active, healthy life amongst large number of Indians, we launched Saberry Drink Mix which provides a healthy boost to help people accomplish more during their busy days. India is one of the fastest developing consumer markets, especially for a product targeted towards the young as well as young adults. There is a huge scope of growth looking at the beverages market in India and we are confident of establishing a strong foothold."
About Sami Direct
Established in 2010, Sami Direct, a subsidiary of Bangalore based Indian Multinational Health Science Company Sami Labs Ltd, is one of the emerging direct selling leaders in India and is the first to introduce nutraceutical and cosmeceutical products with patented formulations.
Sami Direct is supported by its very own R&D facility based in Bangalore, Sami Labs Ltd., where research is carried to create safe products. The state-of-the-art, multidisciplinary division pursues diverse fields of research with over 120 scientists. With 96 patents and several more in the offing, all products of Sami Direct are formulated in accordance with the global standards.