Talk Fusion Extends Dream Getaway Qualification
May 6, 2015
By Nicole Dunkley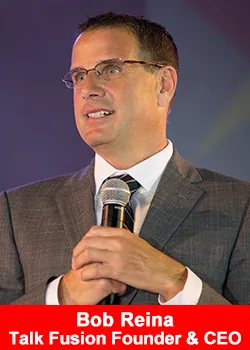 After a tremendous last minute push to qualify by determined Associates, Talk Fusion has extended the qualification period for its Dream Getaway vacation incentive by another week to May 10, 2015.
This extension gives more Associates the opportunity to "Go Diamond" and qualify for the company to send them to Maui, Hawaii for the highly anticipated bi-annual event to be held on May 28 – June 1, 2015.
"We call it the 'Dream Getaway' for a reason. Anything great that has ever happened in life has been powered by the Dream," says Talk Fusion Founder & CEO Bob Reina. "Whatever it is – being debt-free, helping family and friends, contributing to vital charities, even driving a brand new sports car – having the financial freedom to make that Dream come true will really change your life. Talk Fusion is proud to reward successful Associates striving for their Dreams with two Dream Getaway trips to Hawaii every year."
Talk Fusion Associates who qualify before the extended May 10 deadline will discover a new adventure filled with motivation and true team spirit. Past Dream Getaway events have included exclusive world's-first looks at exciting new product offerings; the chance to meet, network, and be mentored by some of network marketing's most successful leaders; and gorgeous beachside events that take full advantage of the tropical paradise setting of Maui.
New Associates can qualify for Dream Getaway through Talk Fusion's World's First Instant Pay Compensation Plan by reaching the rank of Diamond. Current Associates qualify by maintaining that rank for only two weeks. Talk Fusion pays for qualified Associates to fly from around the world and attend the Dream Getaway vacation incentive held at the Grand Wailea Resort.
Beyond being an extreme morale boosting reward for hard work, Dream Getaway offers a true business advantage for Associates who attend. While the motivational meetings with top industry leaders offer invaluable insight, there is an even deeper value.
"I can tell you that events like this make the business move from your head to your heart," notes Founder & CEO Bob Reina. "It absolutely cements your belief in the company and the support team behind them."
A photo experience of the December 2014 trip can be found on the official Talk Fusion Facebook page. Additional information about this luxury incentive is available at TalkFusion.com/dream-getaway.
ABOUT TALK FUSION
A global leader in video communication products, Talk Fusion connects people around the world through cutting-edge video technology and the means to share it, empowering them to live their dreams. Talk Fusion's innovative video products are marketed person-to-person by independent Associates in more than 140 countries.
Founded in 2007 by CEO Bob Reina, Talk Fusion introduced the world's first Instant Pay Compensation Plan. Talk Fusion adheres to the highest ethical business practices and is a member of the prestigious Direct Selling Association (DSA). Reina firmly believes that "with great success comes greater responsibility."
Talk Fusion fosters a strong commitment to giving back to friends, family, communities, and animal charities across the world to produce a positive global change. Learn more at www.TalkFusion.com and "Like" Talk Fusion at www.facebook.com/TalkFusion.
Income Disclaimer:
Any earnings portrayed in any Talk Fusion marketing materials are not necessarily representative of the income, if any, that a Talk Fusion Associate can or will earn through his or her participation in the Talk Fusion Instant Pay Compensation Plan. All references to income, implied or stated, throughout the Talk Fusion Instant Pay Compensation Plan are for illustrative purposes only. These figures should not be considered as guarantees or projections of your actual earnings or profits. Talk Fusion does NOT guarantee any level of income or earnings to any Associate; any representation or guarantee of earnings would be misleading. The purchase of a Talk Fusion Product Package is completely optional and is not required for an Associate to participate in the Talk Fusion Instant Pay Compensation Plan.