Total Life Changes Attracts Many Young Internet Marketers
May 6, 2015
By Nicole Dunkley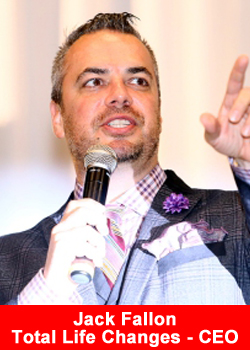 TLC's "Generation Next" is a group of young, savvy and ambitious Internet marketers that are climbing the ranks in the MLM industry faster than a Lingenfelter 427 Twin Turbo from 0-60 MPH. These young entrepreneurs are paving the way to financial freedom for themselves and many others by developing meaningful relationships Online and Offline with their peers. There is a resounding theme to their success that revolves around an opportunity, an attractive compensation plan and products that are truly making Total Life Changes.
Jaheel Coleman joined TLC just four months ago at the age of 19. He is now the youngest Executive Director in Total Life Changes history. "TLC has allowed me to tap into a greater level of potential and has helped me expand my level of faith because of the short-term manifestations I've seen in myself and my family. My life has been extremely impacted by TLC in so many ways, but one of the greatest ways has been the wealth of relationships and connections that I have acquired. I was taught that your network determines your net worth and it's very safe to say that TLC has increased my net worth one hundred-fold."
Kai Lo is another example of a young man that is staking his claim in MLM. He has been with TLC for five months and has qualified as a Regional Director. He discusses his success with building a strong team of leaders:
"One of the biggest keys to my success is consistency in building relationships with lots of people everyday. There are many things that I'm not good at, but I can become great friends with many people. People join others that they like and trust. Not everyone will like you, but if you just keep connecting with new people and maintain relationships with those who like you, then you will have more and more people that want to get involved with what you are doing just as long as you are consistently following up with them. You're not trying to get everyone to join your opportunity. You simply need a small core group that have great synergy to work together, and that will turn into thousands of people in your organization!"
There is a sense of confidence and ownership amongst this young group of leaders that is fueling this movement. Each of these young entrepreneurs envisions leaving their mark in the industry. They share a common goal of helping others not only to succeed in the business, but succeeding in all aspects of their life. Dominic Moore is a young Director with Total Life Changes. He has been a part of TLC for eleven months; "When you want to be successful as bad as you want to breathe, then you will be successful. With TLC, I'm given the opportunity to capitalize on doing what I've always done. The difference is, this time there isn't a limit to how much I can be compensated; and understanding that makes me work harder to learn more and grow my business. My work ethic hasn't failed in 26 years, and for a first time network marketer, my results are outstanding. Being involved with TLC for 11 months now has drastically changed my life. Reaching a financial level that was once only possible for me if I played professional basketball; TLC is impacting not only my life, but my family as well."
Total Life Changes is providing men and women of all ages and all ethnicities an opportunity to change peoples' lives all over the world. "I feel very fortunate to get to know these young entrepreneurs on a very personal level. They are all very positive, intelligent and spiritual people and they all have one goal in mind; they want to help thousands of people win. And what I mean by that is, they want to impact families' lives by helping them duplicate their success.
They want to introduce them to the products that changed their life and provided so much more than they ever imagined. The greatest leaders in this industry are a product of their products. And the most successful earners in TLC are no different. They have a personal connection with the products that drives their business; that attracts others to them and makes duplication of that success so much easier," explains TLC founder and CEO, Jack Fallon.
The young women of Total Life Changes are leading the charge in the field. One of TLC's most competitive and determined IBO's is former WNBA athlete, Stanecia Graham. Stanecia has been in Total Life Changes for six months and has already positioned herself as a National Director. She discusses her vision, motivation and goals moving forward with Total Life Changes:
"I want to inspire others to follow their dreams. I aspire to continue to build TLC and assist the company in maintaining their number one spot on the MLM charts. I will work my hardest to help others reach ranks they never thought possible and build a team of winners. I anticipate being an influential partner in building a multi-billion-dollar company. TLC has allowed me to truly focus on building wealth and improving the health of friends and families all around me. TLC has opened a door of wealth that I have worked day and night to achieve. The fact that this was acquired in such a short period of time makes me believe that everyone that hustles hard can reach his or her goals."
Darryl Drake reached the rank of National Director in just five months. He explained the secrets to his success:
"Generally speaking, to get to where I am at in this industry as a whole, I have been extremely focused, consistent, dedicated & determined toward the advancement of myself and the members of my organization within Total Life Changes. I have always treated my business like a business. I have heard it said once before, if you treat your business like a hobby, it would pay you like a hobby… But if you treat your business like a business, it will surely pay you like a business. TLC has allowed me the ability to impact more lives than I ever thought possible. It has allowed me the ability to help the average person earn an above average income. In turn, it has permitted me the opportunity to represent a company that is not only helping people improve their financial situation, but it is also providing a product that is allowing me the ability to help improve people's health."
Many adolescents and young adults are without options of earning substantial income to pay down accrued debt; and there is even more burden being placed on America's college graduates. Most often, students that finish college enter into an American society carrying a backpack full of debt. They have spent four to five years following an American dream, only to graduate into an accumulation of debt without a considerable amount of annual income to pay down the debt. Total Life Changes and the MLM industry is helping these young adults build a successful business and begin paying down their debt from college student loans.
TLC is being recognized as a performance-driven company with a large International reach. Its popularity has been documented as the #1 MLM Company for the past six months according to MLMrankings.com. Week after week, the number of new affiliates is well over 4,500 members and growing. Monthly earnings have continued to increase at an incredible pace for many IBO's in the U.S. and abroad and the recent introduction of Resolution and Infinitely Timeless™ is creating a significant interest among networkers seeking breakthrough products to build an independent business around.
Total Life Changes offers an amazing line of health and beauty products along with a great business opportunity. TLC was created by CEO Jack Fallon over 15 years ago with a single product, Nutraburst, and has grown to include our Iaso™ brand of products like our popular Iaso™ Tea. Our hybrid binary system allows IBO's of TLC to quickly be compensated for introducing new reps to our products and business opportunity. The opportunity for you to feel healthier and flourish financially is what TLC is all about!
Join us in Atlanta this July to see it for yourself.