Tupperware Is Joining UN In Fight For Gender Equality
May 11, 2015
By Tina Williams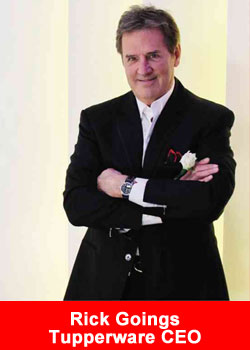 Tupperware is one of three companies to announce a new partnership with UN Women's HeForShe program.
Rick Goings, the chairman and chief executive of Tupperware Brands TUP 0.93% , would like his fellow CEOs to look at promoting women the way Wall Street looks at investing in undervalued companies: It's not about doing the right thing or scoring PR points, it's simply good business.
"I want them to see the business case for gender parity," Goings told Fortune. "In business, women are under-appreciated assets, and there will be a business advantage for those who seize the opportunity to develop them. "
That's one reason why Tupperware Brands, which has a business model that relies on a predominantly female sales force around the globe, has signed on as one of the first companies participating in HeForShe, the UN Women's program in support of gender parity. HeForShe is focused on tapping men like Goings to join women in the push for gender equality.
The HeForShe campaign announced on Tuesday that Tupperware Brands, Unilever UN 2.87% and PricewaterhouseCoopers—all three led by male CEOs—have agreed to be its first corporate partners. Tupperware has made a three-year, $500,000 commitment.
"There have already been a lot of SheForShe efforts—women trying to help women achieve parity—but the reality is that men continue to hold the positions of power," Goings says. "For gender parity to make progress, it will take leveraging that power."
As part of its HeForShe activities, Tupperware has committed to conduct a comprehensive audit of the gender composition of its entire business, including the company's board of directors and 14 factories that manufacture Tupperware Brand products. That should take about a year. Goings and his senior management will then use the results to develop an action plan for achieving 50/50 equality throughout the entire enterprise. The company also has pledged to use its grassroots networks in 80 countries around the world to raise awareness of the campaign and enlist support from men.
Focusing on gender parity is nothing new for Goings, who has headed up the Orlando-based, Fortune 500 company for 18 years. Goings is one of three men serving on the World Economic Forum's Global Agenda Council on Gender Parity, and he says he's been making noise for years at the annual Davos meetings about the need for more momentum and focus on women's empowerment and parity issues.
Goings came to Tupperware from Avon, where at one point he headed up the cosmetics company's operations in Germany. He recalls that "nearly all of [his] direct reports" were raised by single mothers who had lost their husbands during World War II.
"That gave them a very different appreciation of what women were capable of," Goings says.
From his early days at Tupperware, which has been named to Fortune's World's Most Admired Companies list eight years in a row, Goings recognized the need for male executives to be sponsors for rising women executives. A good example is Elinor Steele, who started her career at Tupperware as a temp in global procurement and is now VP for global communications and women's initiatives, thanks in part to the fact that Goings took her under his wing.
"But it's not just me, he has forged a pathway for women throughout the organization," Steele says. Currently, five out of 19 on the senior management team are women—a number Goings says he'd like to see rise.
Goings is encouraged by the expanded pipeline of women positioned to move into executive positions and the increasing demand for the kinds of people skills women often offer. "We're no longer looking for the command-and-control type of person," he says. "We're looking for command-and-collaborate."
As another part of its commitment to HeForShe, Tupperware Brands also is partnering with Georgetown University to conduct global research intended to establish the degree to which women's confidence acts as a key driver of overall global economic growth. The topic was inspired by the company's experiences with women who struggle to set up a Tupperware business when not supported by the men in their lives.
"In some countries where the sales force is entirely female, we'll often invite the husbands along to seminars on women's empowerment so we can demonstrate the positive impact the wives' work can have on the family in terms of household income, nutrition, health and education," Steele says. "We have seen spouses move from a point of aggression opposing the women's business to appreciation of her financial contribution."
Heading up the research is Catherine Tinsley, a professor of management at Georgetown's McDonough School of Business and executive director of the school's Women's Leadership Initiative. "There's no doubt that people believe in the importance of gender diversity and companies are trying, really throwing money at it," Tinsley says. "Yet, change still comes in trickles."
Tinsley attributes the slow progress to a fear of change, particularly within boards of directors. She notes that her own research shows the most likely predictor of whether a woman will be appointed to a board seat is whether she will be replacing a woman.
"It's a woman's seat and then it's okay, but if they replace a man with a woman they worry that they'll lose those cordial board relationships," Tinsley says. "These are tight networks with a bias towards the status quo."
Even so, Goings has hope for the HeForShe campaign, despite a recent study showing at the current rate of change it will take more than 80 years to reach gender parity.
"Eighty years is unacceptable," Goings says. "With HeForShe, we have the potential to use the leverage of heads of state, university presidents, CEOs. We just have to get them to understand the economic case that makes women's equality not just a nice to have but a must have."