4Life Appoints New GM, Australia And New Zealand
June 21, 2015
By Nicole Dunkley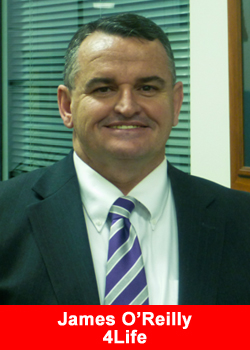 4Life executives recently named James O'Reilly as 4Life General Manager in Australia and New Zealand.
In his new role, O'Reilly will be responsible for all aspects of 4Life's business in the market, including operations, marketing, and field development. He comes to 4Life with several years of experience. Most recently, he served as General Manager over Australia, New Zealand, and the Pacific for a highly successful global direct selling company.
4Life International and Sales Manager Matt Lisonbee: "Jim brings a diversity of experience to 4Life. First, he understands our business model. Second, he's operationally proficient. Finally, he's a marketer, communicator, and field developer."
During his professional career, O'Reilly has lived and worked throughout Asia and the United States. He is passionate about the success of others and is specifically interested in creating sustainable and profitable relationships with 4Life distributors.
O'Reilly has a Bachelor of Education in Human Resource Development from the University of Technology in Sydney. He and his wife have seven children. His personal interests include music, fishing, team sports, and photography.
"I'm really excited to begin this journey with 4Life. There's so much potential throughout Australia and New Zealand," stated O'Reilly.
4Life has offices on five continents to serve a global network of independent distributors through science, success, and service.