5LINX CEO Craig Jerabeck Honored By Alma Mater
June 23, 2015
By Nicole Dunkley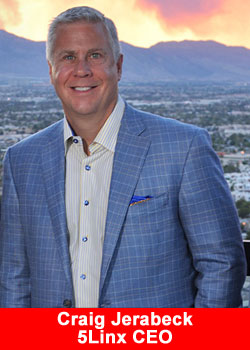 5Linx, founder, president and CEO Craig J. Jerabeck is being recognized with The Lifetime Achievement Award. The award recognizes significant, sustained accomplishments that are truly extraordinary, widely recognized as such and of positive and lasting quality.
5LINX® Enterprises Inc., a direct marketer of telecommunications products whose services include VoIP, wireless, satellite and local telephone services. In 2012 the company was ranked No. 1 in the Rochester Business Alliance's "Rochester Top 100."
A member of multiple boards, including Arc of Monroe County and the Genesee Valley Trust, Jerabeck was named Entrepreneur of the Year in 2003 by Ernst and Young, Retailer of the Year in 2004 by Entrepreneur Magazine, was ranked No. 2 in the Rochester Top 100 in 2009 and No. 1 in the Rochester Top 100 in 2012.
He holds a Bachelor of Science degree and a Master of Business Administration degree, and is a generous supporter to UB, both as a donor and a volunteer.
About 5LINX
5LINX offers a unique work from home business opportunity based on essential products and services people use every day. 5LINX distributes its products and services through a network of dedicated independent marketing representatives. 5LINX(R) has earned the distinction as being recognized by Inc. Magazine as one of the 5,000 fastest-growing privately-held companies in the country for the last eight years. In 2012 and 2013, 5LINX(R) was named to the Global 100 List compiled by Direct Selling News, the premier direct sales industry magazine, making 5LINX(R) one of the 100 largest direct sales companies in the world.