Cabi $250 Million Revenue In 2014
June 19, 2015
By Team Business For Home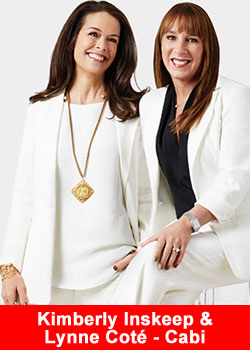 Fashion direct selling company CAbi, has defied the odds and grown thanks to a mix of high touch service and strict requirements. Fortune magazine has profiled this relatively small company that has become the largest direct seller of clothing in the US with $250 million in revenues last year.
Conventional wisdom dictates that direct selling is a passé business model, what with people's busy lives preventing them from being home to greet door-to-door salespeople and a growing preference for shopping online. For evidence, just check out the dramatic sales erosion at Avon Products AVP 0.74% .
Yet, one small company has figured out how to make this way of selling work in the hyper-competitive world of apparel: CAbi, a $250 million revenue company that has become the largest direct seller of clothing in the U.S. Its recipe? Using direct selling to give women high-touch service while offering affordability, quality and not overly fashion-forward clothing.
It also makes sure that CAbi "stylists," as it calls its sales representatives, are fully committed to selling its products, and not just looking for some extra cash on the side.
CAbi stylists, who currently number around 3,400, are given training to show customers how to dress better, fit their clothes, and assemble looks — a level of attention the Los Angeles-based company says is the key to making its approach work.
"Retailers only provide that at a significantly higher price point," says Lynne Coté, CAbi's CEO since 2013, and a one-time executive at companies like Jones Apparel Group and J.C. Penney JCP 0.85% .
CAbi, which stands for Carol Anderson by invitation, offers two collections a year, one for spring and summer, and the other for winter and fall, with average prices of around $100. Its typical customer is a woman between 40 and 45 who also likes to frequent J.Crew, White House Black Label and Loft in search of trendy clothes that don't break the bank.
The company, bought three years ago from its founders by private equity firms Irving Place Capital and J.H. Whitney, refreshes the collection mid-season twice a year with an injection of 12 pieces that can help CAbi benefit from a hot trend and give stylists a pretext to reach back out to customers.
"It's about making women feel well, not about the hard sell. Women crave that," explains Holly Parker, a mother of two from Santa Barbara, who started selling for CAbi in 2008.
CAbi stylists collectively put on 60,000 "shows" a year to promote their wares, working with hostesses who provide both their homes and access to their friends (i.e., new potential customers), in exchange for a discount. The stylists themselves can make as much as 33% in commissions.
But they have to hustle for it. One of Avon's biggest problems has long been the high turnover among its sales reps, as many try it out for a bit before dropping out, leaving a trail of frustrated customers. Among its many missteps, Avon also tried its hand at apparel but treated the category as an afterthought and kept changing the collection's sensibility, making it harder for salespeople to sell clothes and earn commissions.
At CAbi, there are built-in roadblocks to prevent people who are less than serious about it. Saleswomen have to buy inventory upfront at the start of season to the tune of $2,500 and are on the hook for selling it. If a stylist fails to meet a minimum threshold, she is barred from selling in subsequent seasons. (They are strictly forbidden from selling unsold merchandise on eBay EBAY 0.23% or other similar marketplaces.) And all representatives are required to attend CAbi bi-annual training meetings.
"That's a significant investment the have to make in the business upfront so typically, they're a lot more inclined to build a business," says Coté. The result is an 85% retention rate, rather than a typical 20% in the direct selling business.
CAbi's modest but undeniable growth stands in contrast to current trends. According to the Direct Selling Association, direct sales of clothing have declined in each of the last three years. In contrast, Coté says the company is growing at 5% a year, modest for a private-equity owned company, but still an industry-beating pace that shows her slow-but-steady approach is paying off.