Greg Bauman Hits 300K With LIMU
June 13, 2015
By Nicole Dunkley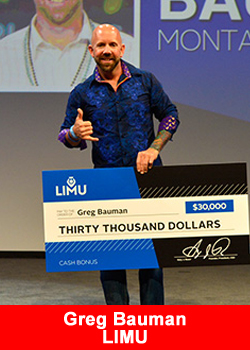 Even with relatively little experience in the industry, LIMU Promoter Greg Bauman of St. Augustine, Florida has reached the 300K rank with LIMU. LIMU celebrated his rank advancement at their LIMU LIVE! event in Arlington, Texas earlier this month.
"Most of my life I've worked in construction, building log cabins and shoveling snow off of stacks of lumber in Montana. Those hard days started at 5:00am and ran 12 hours or more, 50 to 60-hour weeks just to survive," Bauman says.
"I've always been a blue collar guy, but the LIMU Experience has been amazing and has totally changed my life. I've been able to relocate to Florida, I'm now making over 8 times what I earned in a year, and I can set my own schedule. There's literally nowhere else in the world I could do this. LIMU's system, which allows everyone 6 weeks each month to qualify for new ranks, made it possible for me to reach 300K. Not bad for a one-time carpenter!"
At the 300K rank, LIMU Promoters earn a $30,000 cash bonus, and that's on top of the cash bonuses they have earned at previous ranks, $10,000 at 100K and $20,000 at 200K. And those early cash bonuses are only part of the story; LIMU Promoters have the opportunity to earn a total of $730,000 in cash bonuses as they achieve ranks from 100K to 2M.
"It's exciting to see Greg have so much success at LIMU," said Gary J. Raser, Founder, President and CEO. "When I founded the company, my goal was to help people stop living paycheck to paycheck.
Greg is a tremendous example of how working your LIMU business every day can radically change your life for the better. We really are a very different kind of company, perfect for ordinary people who are stuck in a life they don't love. We congratulate Greg for leading the way as one of our newest 300K Promoters."
About LIMU
Founded in 2004, and profitable and debt-free from day one, LIMU is a leading direct sales company focused on providing entrepreneurs with exclusive and proprietary Fucoidan-rich products made in the USA, along with the unique opportunity to create their personal LIMU Experience and Be More.
Award-winning branding and marketing support LIMU Promoters around the world, and state-of-the-art technology platforms make it easy for Promoters to share the LIMU Experience and build strong global businesses. With over 1,100 independent, third-party, unsolicited studies on its super-nutrient Fucoidan – available on pubmed.gov – the company is the acknowledged category-creator and worldwide leader for LIMU products.
LIMU and the LIMU logo are registered trademarks of The LIMU Company, LLC in the U.S. and other countries.
For more information, please visit: www.thelimucompany.com and www.yopros.com
Follow LIMU on Facebook, Twitter, YouTube and Instagram:
https://www.facebook.com/LIMUco
https://twitter.com/LIMUthecompany
https://youtube.com/LIMUcompany
https://www.instagram.com/theLIMUcompany
Source
LIMU