Henry Ye – Ambit Energy From Immigrant To Million Dollar Earner
June 4, 2015
By Tina Williams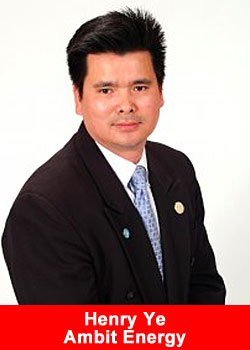 Henry Ye was born in China, grew up in Central America, and was educated in North America.
His dream was to travel around the world before he turned 55 to preach the gospel by becoming an evangelist. Unfortunately, people in the U.S. end up in the 40/40/40 J.O.B. forumula. (40 hours a week for 40 years to retire on 40%)
Ye says, I think overwork, under pay, and not much time for our families are the major components of the J.O.B. (just over broke) system. It doesn't matter how fast and how far you travel but if you are going to the wrong direction, you will never get to your destination.
Seven years ago when a friend told him about the Ambit Energy business opportunity, he thought it just another buy and sell network marketing company therefore he said 'no' to his friend three times. Three weeks later when he finally saw the Ambit Energy business presentation, he realized he had wasted three weeks of time he could have spent getting out of the 'J.O.B.' system.
Ye was able to triple his income and resigned from his full-time job eight months later. I'm not 50 yet, but thanks to CEO Jere Thompson and CMO Chris Chambless for setting up the Ambit Energy, today I could proudly pronounce that I'm already "time free and financial free".
Ambit leadership inspires Henry Ye to work hard and work smart with the business. My mentor "Steve Thompson is a great leader. I didn't know him very well in the beginning. I only know that he was in New York every two weeks and in between those meetings, I would write down a whole list of questions I had and get the answers from Steve while he was here in New York.
There is an old Chinese saying, 'Failure is the Mother of Success.' In Ambit, 'Duplication is the Father of Success.' If you want to be on the top, you need to learn from those who are already on the top.
Ye takes to heart, Co-founder and CEO, Jere Thompson's mantra, 'Never sacrifice integrity for growth.' For some people that's just a sentence; but for Henry Ye that is the core value of his business. If we keep our integrity, everybody will do well. When we put that integrity into practice, everyone will have success and there will not be any breakdown in our team effort.
Ye has great respect for and trust in this from Jere, "We know that every time an Ambit Consultant approaches someone to become a new consultant or customer, they are putting their reputation on the line and trusting that Ambit will deliver and perform as expected. Ambit's goal is to be worthy of that trust."
Knowing their top leadership has that kind of commitment gives Ye great confidence in building his Ambit organization. The leadership of Ambit has given him the courage and the wisdom to follow them.
I want to thank God, Ambit and my entire team for changing my life and the lives of others; for giving me the opportunity to be part of this and to help more people – ordinary people like me.
Advice for any network marketer
Henry Ye ends with, You are the CEO of your organization, failure or success is dependent on your daily decision and activity. If you have a dream without a plan, it's just a dream. If you have a dream with a plan, it's just a wish. If you have a dream with a plan and you put it into action, it will help you achieve prosperity and financial freedom, and it will have an impact on the rest of your life and the life of others. Remember, don't quit before you succeed because the word 'danger' in Chinese means 'danger = opportunity.