Industry Leaders Hit Diamond Shortly After Joining Javita
June 17, 2015
By Tina Williams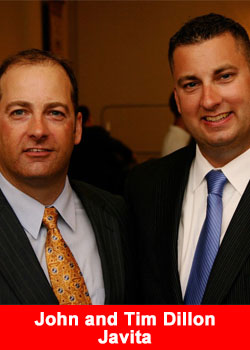 Brothers John and Tim Dillon are a force to be reckoned with. The duo began Javita in February 2015 and in less than 90 days the pair has built an explosive business, earning them one of the company's top ranks — Blue Diamond.
With 39 years combined experience, the Dillons are multi-million dollar industry earners. Now, having recently joined Javita, the pair is continuing their successful journey. The brothers said they believe they joined the company at the right time and their momentum is at an all time high. Timing couldn't be better to be a part of Javita, said Tim. Javita has explosive growth right now, and we are happy to be a part of it.
Tim and I joined Javita because of the high retention rate for both Members and customers and a compensation plan that provides an opportunity for the average family to create a passive income, said John.
Although the brothers both run their own traditional businesses, Tim a tree service company, and John a hockey skating school, they both believe in multiple streams of income, and say that Javita is the perfect opportunity for them to earn extra income and help change lives.
Javita offers a product that more than half of the population drinks habitually every day. We are not changing people's habits, just their coffee, said John. And in the end, they will feel and look better.
John and Tim are excited that they have hit Diamond with Javita so quickly, so they can show what is possible. The brothers have been in the industry for quite some time and know exactly what it takes to be successful. They also credit Javita's simple business system with them being able to reach the average person.
I am passionate about helping people be their best, whether it is when I am teaching hockey skating skills or coaching individuals in personal development. Now, because of Javita I can help even more people through this opportunity, John said.

Achieving Diamond is really a first step in helping many others achieve their dreams. Once you prove it can be done, you put yourself in a position to help others achieve their goals as well.
Javita allows time freedom with family. My children, Thomas, 7, and James, 5, will only be young once, and Javita allows me the flexibility to spend more time with my wife and kids, said Tim. Because of Javita, I can now afford to send my children to private school and I am saving for their college tuition, if they choose to go. There is no other business model out there that gives you both time and financial freedom, said Tim.
About Javita
Javita, with global headquarters in Boca Raton, Florida, is a company committed to changing the lives of millions of people by bringing together healthy coffee and other beverages with direct selling. Javita offers healthy, unique, great tasting products and an incredible business opportunity that can enhance people's lives – one cup at a time. The company has offices and warehouses in North America, Europe and Asia and does business in more than 30 countries globally. Millions of people already have coffee in their life, Javita gives you coffee for your life.