Industry Legend Tom Winckler Joins Rain International
June 6, 2015
By Team Business For Home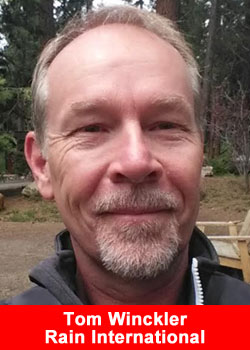 Byron Belka, Founder and President of Rain International welcomes Tom Winckler to the Leadership Team at Rain.
Mr. Winckler has reached the highest levels in the network marketing industry, enjoying multi-million dollar status with previous companies. His decision to join Rain International came after his review of the Company's products, assets and compensation plan and meeting with the Founder, Byron Belka, and the executive team.
Winckler has been integral in the launch and success of multiple companies, including a multi-national marketing conglomerate, an international holding entity, a biotechnology company, and more. His background includes consulting, marketing and sales, team building and networking on an international level.
He developed a distributor organization of more than 100,000 with revenues exceeding $100 million and has helped thousands of entrepreneurs realize and surpass their financial goals. Today, Winckler is a senior partner in a private equity firm and serves as the CBDO on a global level, and he has been instrumental in the international business development of Hines Aircraft Ltd.
Byron Belka, Founder and President of Rain International said, A long time ago, I learned that to be successful, you need to surround yourself with successful people. I am thrilled to have an amazing leader like Tom Winckler join Rain.
His experience and knowledge of the network marketing industry plus the great successes he's created in the world will prove to be key in launching seed nutrition in Germany and throughout Europe. He went on to say, It is evident that Tom's reputations speaks for itself – high caliber leaders are already joining Rain and our cause as he introduces them to who we are and what we are about.
After a hiatus from the network marketing industry due largely to an influx of 'me too' companies and products and a lack of originality in the marketplace, I decided to engage with Rain International due to their tremendous leadership team spearheaded by Byron Belka and their unprecedented category creating product line.
This combined with the opportunity to pioneer the US, European and other international markets is rare and beyond exciting for me. Winckler said, A lengthy due diligence process revealed that Rain's products are not only original, but more effective than any I've had the chance to work with before.