Ken Stewart – Vemma Hits Star Ambassador
June 26, 2015
By Team Business For Home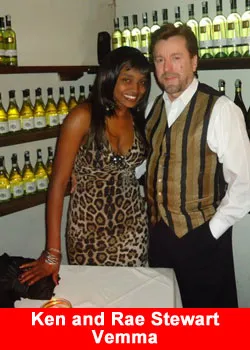 Ken Stewart, a top industry leader with over 33 years of network marketing experience, was recently honored at VEMMA's 2015 annual convention in Phoenix, Arizona (U.S.) for reaching one of its top levels of achievement, Star Ambassador.
Although from the U.S., Ken is currently based out of Nairobi, Kenya, having moved to Africa 5 years ago to open the African market for VEMMA with his best friend and VEMMA Royal Ambassador, Clay Jackson.
Known as "the MLM Professor," and only 1 of around 150 people in the industry honored by his peers with induction into the Academy of MLM, Ken was among the early pioneers of the binary pay plan concept in the early 1990's, and he was also involved with introducing one of the industry's first automated, online business building and recruiting systems with a powerline feature.
A recognized expert on network marketing, especially in regards to pay plans, as well as having extensive knowledge on regulatory compliance and illegal pyramid schemes, Ken was originally pursuing a promising legal career when he was first introduced to the concepts of leverage and residual income.
"I've got a farmer to thank for exposing me to the network marketing industry back in the early 1980's. Then a year or so later I joined a fairly new company and was fortunate to meet, learn from, and work with Larry 'the Mentor to the Millionaires' Thompson and the late Jim Rohn, 2 individuals who dramatically altered the course of my life, as they did many others in this industry. Much of what I know about the industry, building the business, and succeeding in the industry I learned from those 2 giants."
Ken's advice to newbies, novices, and others who want to reach the top and create an above average to extraordinary income and lifestyle? "Get serious! Get smart! And get going! As Jim used to say, 'It's serious whether you win or lose. It's serious whether you succeed or fail. It's serious whether you achieve financial freedom for you and your family or you do not.' Treat your business like a business, not a hobby. You can't make $1 million with a minimum wage mentality. Get serious.
Make a decision, make a commitment, and then have an 'I'm going to do whatever it takes, no matter what' attitude. Remember, for things to change, you've got to change and for things to get better, you've got to get better.
Next, get smart! Jim used to say, "Don't be lazy in learning!" Read. Study. Listen. Ask questions. Learn from real experts. Acquire the knowledge and develop the skills, and then apply that knowledge and those skills. We've got too many uninformed, misinformed people running around in this industry today with a lottery ticket, maybe I'll get lucky mentality. They never acquire the knowledge, never develop the skills, and they jump from one, hot, new deal to the next, thinking that getting in on the groundfloor of new deals is how you succeed.
Nothing could be further from the truth! In fact, unless you get lucky and pick the 1 out of 100 that makes it 5 years or longer, it's a guaranteed way to fail!
Then we've got a number of newbies and novices with little to no knowledge of, let alone experience in, the network marketing industry that either half the time want to argue with top experts and million dollar earners and tell them what they need to do, and the other half the time the education you're giving them goes in one ear and out the other (they don't know what they don't know, and don't want to know). Worse, they go out and do the exact opposite of what you taught them!
Finally, get going! Take all out massive action with a proven plan of action and a duplicatable approach that anyone can be successful with. The formula for duplication is simple: Lead a large group of people to do a few simple things consistently over a prolonged period of time. If you're new and not very knowledgeable or experienced, Jim taught us that you can make up in numbers what you lack in skill and knowledge. Dreams without action are nothing more than wishful thinking.
If you out-learn, out-think, out-work, out-promote, out-sell, out-recruit, out-train, out-coach, and out-support others, you're going to out-earn others eventually.
There's a few things you need to bring to the table: Desire, a willingness to work, the ability to be teachable and coachable, and determination. Remember, if it's going to be, it's up to me! If you want something badly enough, you'll find a way. If not, you'll find an excuse!
And be very selective about who you enroll with and whose team you join-it matters! We've got the blind leading the blind in a number of cases today, people with little to no knowledge of and/or experience in network marketing, who are following posers, pretenders, wannabees, and fake gurus and experts. And then we wonder why so many never succeed? I'm not surprised! Most people aren't going to take the time to make the necessary personal changes, acquire the knowledge, develop the skills, and pay the price to succeed, and at the same time, they're listening to, working with, and following people who know as little as they do, yet they expect to make a fortune. It usually doesn't work that way."
A Today, Ken spends much of his time traveling throughout Africa teaching people how to properly evaluate companies, products, and opportunities, educating them on the various types of pay plans and how they differ, instructing them on the difference between legitimate network marketing opportunities and illegal pyramid schemes, and showing them how to build large, successful organizations, utilizing much of the concepts, knowledge, and information he learned from Larry Thompson and Jim Rohn.
About VEMMA
Founded in 2004 by BK Boreyko and his two sisters, Karen and Lauren, Vemma Nutrition Company has become known as one of the premier industry leaders specializing in premium liquid nutrition. Every month, thousands of new customers experience the positive difference of the clinically studied Vemma Formula.
The Vemma brands include the clinically studied Verve® healthy energy drink and Vemma Bod-e®, a transformational weight loss line. Vemma is headquartered in Tempe, Arizona, and distributes its products in more than 50 countries through global affiliate marketing. For more information, please visit Vemma.com.