Origami Owl Appoints New CEO
June 16, 2015
By Tina Williams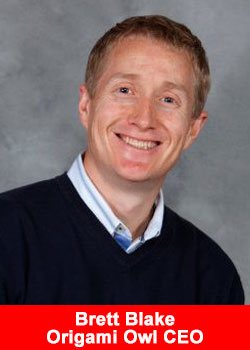 Origami Owl®, an international jewelry company known for its customizable jewelry and signature Living Lockets®, announced today the appointment of its new CEO, Brett Blake.
The news comes on the heels of a series of positive changes the company has implemented over the last few months to support current U.S. sales and global expansion.
Blake's appointment as CEO marks a strategic move by Origami Owl's executive team and Founders Bella and Chrissy Weems, to tap a visionary leader with a wealth of business knowledge and acumen to take the company to the next level. With more than 20 years of experience, the Harvard educated former PepsiCo executive has a history of helping companies discover and implement organic growth strategies.
Origami Owl has been the talk of the industry since it burst on to the scene a few years ago. While this company has accomplished so much in such a short period of time, I believe the story is just getting started.

My family and I are excited to join the team, to do our part to be a force for good, and to work alongside Bella and Chrissy, the impressive team at the Nest and our passionate Designers to show the world that Origami Owl's future is bright, said Brett Blake, CEO.
With the new shift in executive management and exciting announcement as an official Direct Selling Association member, Origami Owl is adhering to the mission of being a global force for good, inspiring and motivating people of all ages to reach their dreams, and empowering them to make a difference in the lives of others.
Origami Owl's recent expansion into Canada has sparked over 1,000 new Designers to join the ranks, providing women with the opportunity of owning and operating their own unique businesses. Origami Owl will continue to inspire others as the company builds the sales force, led by experienced Senior Vice President of North American Sales, Marcia Cota. In turn, Cota is supported by a strong Regional Sales Management team that has also recently been put into place.
As the next step in our journey, we are happy to introduce Brett Blake as our new CEO, said Founder Chrissy Weems. Blake brings a wealth of knowledge and is a highly accomplished executive with more than twenty years of experience in diverse industries including jewelry and fashion.

With an incredible field of Designers, an exceptional sales team and a new CEO, we have a solid foundation in place and we are well-positioned for growth and success.
About Origami Owl
Origami Owl® Custom Jewelry began in 2010 when 14-year-old Founder Bella Weems had a simple dream of getting a car by the time she turned sixteen. She created a line of meaningful, customizable jewelry, including its signature Living Lockets® which can be personalized with an individual's own life journey. Fast forward five years and Origami Owl, a global social selling company and Inc.
Hire Power Award recipient is fulfilling its mission to be a force for good; to love, inspire and motivate people of all ages to reach their dreams and empower them to make a difference in the lives of others. Based in Chandler, Arizona Origami Owl boasts hundreds of employees headquartered in Chandler and more than 60,000 independent sales consultants, referred to as Designers, in the United States, as well as Puerto Rico and Canada.
These entrepreneurs sell the unique line at in-home parties called Jewelry Bars®. For more information or to find a Designer in your area, visit OrigamiOwl.com.