Sophie Paris Celebrates 20 Years Of MLM Success
June 3, 2015
By Team Business For Home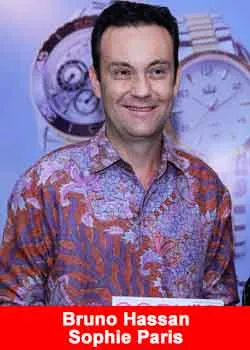 Sophie Paris is without a doubt one of the most successful multi-level-marketing companies to hit Indonesia. The fashion, beauty and healthy-living company, headquartered in Jakarta, now has millions of members in Indonesia, Malaysia, Philippines and Morocco, and it plans to expand to other countries. But business was not always so rosy for the retail giant.
"We started from zero," said French national Bruno Hasson, founder and chief executive of Sophie Paris. Hasson and his wife, Sophie Martin, started the business — now worth millions of dollars — in the garage of their home in Cipete, South Jakarta, in 1995.
"I was selling farming machines in Jakarta at that time," said Hasson. "But it was not my passion."

The couple came up with the idea of starting their own business, but were initially at loss of what to do.
"I was thinking what advantage we had, being French, in Indonesia," Hasson reminisced.
Then, he noticed that Indonesian women from every economic status and background adored French fashion. Their fascination was reflected through the common sight of copies of French products sold in department stores and markets across the nation.
Hasson and Martin then began designing women's handbags with Parisian styles. Their first target market were their own friends and colleagues.
"We took pictures of our handbags, copied them and put them in photo-albums," said Hasson, with a nostalgic smile. "We then passed the photo albums around among our friends and colleagues."
Seeing the chic designs of the handbags, as well as the affordable prices, their friends and colleagues made the first orders. They also asked Hasson for more photo albums to distribute to their friends and families.
And so, the idea to start a MLM-based company was born.
"Twenty years ago in Jakarta, there weren't many shopping malls," said Hasson. "And there was barely any Internet. So, the easiest way [to sell products] was through MLM."
Their product range expanded to include clothes shoes and accessories — for men, women and teenagers — and cooking utensils.
The company has now moved from a small garage in Cipete to a grand building on Jalan T.B. Simatupang in South Jakarta, employing more than 700 people in their new headquarters alone.
The brand now caters to more than 3.5 million members in Indonesia.
"But Philippines is the biggest [market for Sophie Paris] after Indonesia," said Hasson, recipient of Ernst and Young's "Best Entrepreneur of the Year" award in 2014.

"Sophie Paris was built with the vision to deliver happiness," said Hasson. "And for 20 years, we've worked hard to achieve the success that we share together [with our members]."
Most of Sophie Paris's members are housewives who initially sought to earn an additional income, but "now they're entrepreneurs," said the father of three.
To mark their 20th anniversary, the brand recently released a series of premium watches for men and women.
"Nowadays, watches don't only tell the time," said Hasson. "They're also fashion statements of the wearers."
The products' simple designs are "in line with what customers want these days," said Shiny Mentari Putri, Sophie Paris fashion accessories director. "Based on our observations, they no longer want superfluous details on their watches. What they want is analogue watches with simple designs, a luxury that's rather felt than seen."
The premium watches are all assembled in South Korea but are powered by Japan's Quartz.
Named Madeline, Miley and Monique, are all made of golden or silver-hued stainless-steel guaranteed to be tarnish-free for three years.
The men's watches, named Montana, Nasua and Noe, look more complex. Nasua, which comes in solid gray stainless-steel bezel and strap, for example, also functions as a calendar, stopwatch and tachymeter. Each timepiece has a water resistance of down to 50 meters (5-ATM).
Both the men and women's range are sold between Rp 1.2 million and Rp 1.7 million ($90-$130).
"The prices are way below those of international brands, and yet the quality is really competitive," Shiny said, to which Hasson agreed.
"There are indeed a lot of other watches [on the market]," said Hasson. "But with this quality and at these prices, I think ours are a good deal."
The brand also offers a number of medium-class watches, including the "Son Altesse" series for women and the "A.L.I.V.E" series for men.
"[Sophie Paris's] choices for women's watches are so exciting," said Astri Abyanti, a public relations officers of an upscale Jakarta mall who attended the launch for the company's new collection of watches. "They're available in many different colours and styles, which is necessary for women, as we need to match our watches to our wardrobe."
With so much success under their belt, the founders of Sophie Paris continue to aim even higher by targeting a 20 percent increase in sales.
"Of course, there are many challenges for Sophie Paris," said the founder. "It won't be easy. But I believe the future will be very bright and we can achieve even bigger success."