Talk Fusion Associate Defies All Odds On The Road To Success
June 24, 2015
By Nicole Dunkley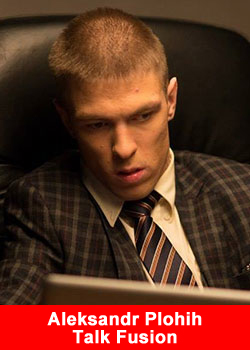 Talk Fusion Associate Aleksandr Plohih of Russia inspires thousands across the globe with his drive to succeed despite adversity. From overcoming communication difficulties to building a flourishing Talk Fusion business, Aleksandr's above-and-beyond work ethic influences others to achieve their wildest dreams.
Aleksandr was diagnosed at birth with cerebral palsy; his condition was so severe that he could not speak or even sit up. Now, at 23, he pursues his passion for technology by sharing Talk Fusion's video communication products with others. The business opportunity has brought him happiness, success and, best of all, freedom of expression.
"The moment I joined Talk Fusion, my life changed," Aleksandr explained. "My experiences prove that anyone can be successful in this business, and so my mission is to motivate people."
Whether he's out on the town sporting a Talk Fusion t-shirt or sharing CONNECT video products and the opportunity with others, Aleksandr quickly becomes the center of attention. "People are always asking me what I do, how I do it, and if I can help them do the same."
To recognize this influential Associate, VP of Training & Development Allison Roberts and Grand Blue Diamonds Cedric Penn and Ron Wright spearheaded a special project: custom-branding Aleksandr's wheelchair. Aleksandr will now be the epitome of "Fusion On the Go," cruising around with the Talk Fusion logo or Mercedes-Benz wheels (in honor of the company's Mercedes Madness incentive program) on his mobile chair. It's a perfect example of the company's unique corporate culture and mission to help anyone, anywhere achieve their dreams.
"I've never heard of a company that appreciates or promotes their brand with a person like me," Aleksandr said. "I'm grateful for this company, the products, and the leadership. I can't wait to tell as many people as I can about Talk Fusion! I'm very excited for the future."
For Associates like Aleksandr, the future at Talk Fusion is brighter than ever as they anticipate the release of Video Chat Beta, which will allow people to connect face-to-face on any smartphone, PC, or tablet, including the unison of Apple and Android devices. Aleksandr and his team members look forward to sharing this industry-first product with the world.
"When I saw Video Chat for the first time, I knew that I was a part of a technology revolution," Aleksandr said. "This product gives people the opportunity to communicate so easily without limitations, making the entire internet free to connect. The idea itself blew my mind."
Just as Video Chat breaks communication barriers to achieve the unimaginable, Aleksandr is admired by his community for his unrelenting determination to be a great, successful leader. He was recognized with the "Unlimited Possibilities" award at an event in Ekaterinburg, Russia this January–a tribute to his positive attitude and ability to overcome all challenges. He is an inspiration to his team members, Talk Fusion Associates around the world, and those who also live with disabilities.
"When others get discouraged in this business," said Aleksandr, "I tell them 'look at me–I can't walk or run. You have legs! Go out there and embrace this opportunity. If I can do it, so can you."
ABOUT TALK FUSION
A trend-setting industry leader, Talk Fusion connects people around the world through cutting-edge video technology for social and business communication. Talk Fusion's innovative video products are marketed person-to-person by independent Associates in more than 140 countries, empowering them to earn the financial freedom to live their dreams.
Founded in 2007 by CEO Bob Reina, Talk Fusion introduced the world's first Instant Pay Compensation Plan. Talk Fusion adheres to the highest ethical business practices and is a member of the prestigious Direct Selling Association (DSA). Reina firmly believes that "with great success comes greater responsibility."
Talk Fusion fosters a strong commitment to giving back to friends, family, communities, and animal charities across the world to produce a positive global change. Learn more at www.TalkFusion.com and "Like" Talk Fusion at www.facebook.com/TalkFusion.
Income Disclaimer:
Any earnings portrayed in any Talk Fusion marketing materials are not necessarily representative of the income, if any, that a Talk Fusion Associate can or will earn through his or her participation in the Talk Fusion Instant Pay Compensation Plan. All references to income, implied or stated, throughout the Talk Fusion Instant Pay Compensation Plan are for illustrative purposes only. These figures should not be considered as guarantees or projections of your actual earnings or profits. Talk Fusion does NOT guarantee any level of income or earnings to any Associate; any representation or guarantee of earnings would be misleading. The purchase of a Talk Fusion Product Package is completely optional and is not required for an Associate to participate in the Talk Fusion Instant Pay Compensation Plan.