Talk Fusion Dream Getaway Reaches New Level Of Success
June 3, 2015
By Nicole Dunkley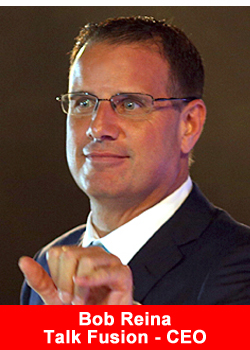 Talk Fusion continued their long-standing tradition of team-building, high motivation, and exclusive reveals of upcoming company releases–combined with the splendor of a relaxing tropical vacation in Maui–as their 5th Dream Getaway vacation incentive came to a powerful and successful conclusion.
Twice a year, Talk Fusion hosts the Dream Getaway trip, a sensational 5 day, 4 night Hawaiian vacation to reward Associates for their dedicated work and job well done. Qualifying Associates are flown from across the globe to the impressive Grand Wailea Resort in Maui, where they experience the life-changing message of Talk Fusion in a stunning island location.
"It never gets old coming to Maui. It's beautiful here," remarked Talk Fusion Founder & CEO Bob Reina. "I've always said, 'What's better than a vacation?' A free vacation! And there's no better place to come than Maui."
As with every Dream Getaway, attending Associates got an exclusive look at the exciting plans and products that Talk Fusion will soon be rolling out, including the world's first live demonstration of Talk Fusion's Video Chat Beta, with all-new enhanced features and functionality. Hosted by Talk Fusion Director of Information Technology Dr. Jonathan Chen, the Video Chat demo brought the room to its feet. There was no doubt that the timing for the Talk Fusion opportunity is perfect.
"Now is a very exciting time for Talk Fusion, the most exciting time in the history of the company," said Reina to the capacity crowd. "It's great for Associates to spend time with Talk Fusion leadership talking about vision, where we're going, timing, all the exciting things we're about to unveil."
The weekend was also filled with a welcome gala, team building games, and tropical pool parties – each an invaluable source of networking, motivation, and camaraderie. The festivities were brought to a close with the traditional lavish Sunset Soirée, which includes a farewell dinner and Associate awards. However, this Dream Getaway would end on a slightly different note, as the trip happened to coincide with Founder & CEO Bob Reina's birthday.
As a birthday surprise, Talk Fusion Associates–from hundreds of cities in dozens of countries around the world–used the company's industry–leading CONNECT Video Email to send personalized video greetings; the submissions were all edited together along with birthday wishes from the Talk Fusion Executive Team for a moving video tribute that touched everyone in attendance.
Even as the event-filled vacation incentive was winding down, Associates were already looking ahead toward the next Dream Getaway in December.
"If someone didn't qualify for this trip, there's great news for them," said Reina. "They can still qualify for the next Dream Getaway. And we expect everyone here to be back in December."
The Dream Getaway vacation incentive is just one of the many outstanding rewards and recognitions offered through Talk Fusion's Instant Pay Compensation Plan. Associates who reach certain milestone ranks can earn gold and diamond rings, a stunning Rolex watch, and a company-purchased C-class Mercedes-Benz.
Not wanting to miss the next amazing trip, excited Talk Fusion Associates have already started to "Go Diamond" and become eligible for the next Dream Getaway, which takes place December 3-7, 2015. Those who qualify before the November 8 deadline will discover a new adventure filled with motivation, exclusive company reveals, and the opportunity to be mentored by some of network marketing's most successful leaders.
A photo experience of the May 2015 trip can be found on the official Talk Fusion Facebook page. Additional information about this luxury incentive is available at TalkFusion.com/dream-getaway.
https://www.youtube.com/watch?v=WtO4niRhCKo
ABOUT TALK FUSION
A trend-setting industry leader, Talk Fusion connects people around the world through cutting-edge video technology for social and business communication. Talk Fusion's innovative video products are marketed person-to-person by independent Associates in more than 140 countries, empowering them to earn the financial freedom to live their dreams.
Founded in 2007 by CEO Bob Reina, Talk Fusion introduced the world's first Instant Pay Compensation Plan. Talk Fusion adheres to the highest ethical business practices and is a member of the prestigious Direct Selling Association (DSA). Reina firmly believes that "with great success comes greater responsibility."
Talk Fusion fosters a strong commitment to giving back to friends, family, communities, and animal charities across the world to produce a positive global change. Learn more at www.TalkFusion.com and "Like" Talk Fusion at www.facebook.com/TalkFusion.
Income Disclaimer:
Any earnings portrayed in any Talk Fusion marketing materials are not necessarily representative of the income, if any, that a Talk Fusion Associate can or will earn through his or her participation in the Talk Fusion Instant Pay Compensation Plan. All references to income, implied or stated, throughout the Talk Fusion Instant Pay Compensation Plan are for illustrative purposes only. These figures should not be considered as guarantees or projections of your actual earnings or profits. Talk Fusion does NOT guarantee any level of income or earnings to any Associate; any representation or guarantee of earnings would be misleading. The purchase of a Talk Fusion Product Package is completely optional and is not required for an Associate to participate in the Talk Fusion Instant Pay Compensation Plan.