Talk Fusion Indonesian Team Successfully "Attacks" Hawaii
June 10, 2015
By Nicole Dunkley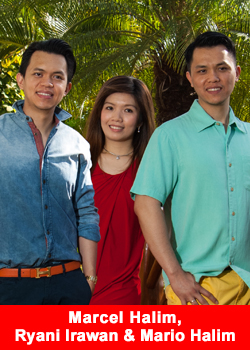 Success and enthusiasm are at an all-time high after the successful completion of the Talk Fusion Indonesian Team's four-week "Hawaii Attack" promotion. While all Talk Fusion Associates worldwide have until November 8th, 2015 to qualify to attend the company's next Dream Getaway in December, the Hawaii Attack pushed Team Indonesia to pick up the pace, double their efforts, and qualify immediately.
As architects of the Hawaii Attack, Grand Blue Diamonds Marselinus Halim, Mario Halim, and Ryani Irawan of Indonesia were determined to increase Team Indonesia's number of attendees for the Hawaiian Dream Getaway from December 3 – 7, 2015. In addition to the amazing tropical vacation and personal motivation that all qualified Associates experience, Hawaii Attack "winners" receive luxurious VIP treatment, including lavish limousine service to and from the Grand Wailea Resort, a special limited-edition t-shirt, and an exclusive meeting with Founder & CEO Bob Reina and VP of Training and Development Allison Roberts, plus other rewards not yet announced.
Indonesian Associates simply had to qualify before June 8th, 2015. The response was nothing short of overwhelming.
"We're so incredibly grateful for the opportunity Talk Fusion has given us," said Grand Blue Diamond Mario Halim. "Not just to drastically enrich our own quality of life, but the lives of so many people we care about here in Indonesia."
"It couldn't be done without teamwork," he added.
With the Hawaii Attack promotion successfully concluded, the other members of Team Indonesia are industriously working to qualify for the December event. They also have to expand their focus to include their annual blockbuster HERO event, which will be held in Surabaya, Indonesia from September 11 – 14, 2015. From a luxury car parade to a sensational black-tie Diamond Dinner and more, HERO is the epitome of direct selling events and plays to a capacity crowd of excited Talk Fusion Associates.
Coupled with the tireless efforts to produce the HERO event, the Hawaii Attack is an inspiring testament of the Indonesian Team's culture to never settle, never tire, and never lose sight of their dreams. They are committed to working harder than ever over the next few months so they can change more lives throughout Indonesia and beyond.
ABOUT TALK FUSION
A trend-setting industry leader, Talk Fusion connects people around the world through cutting-edge video technology for social and business communication. Talk Fusion's innovative video products are marketed person-to-person by independent Associates in more than 140 countries, empowering them to earn the financial freedom to live their dreams.
Founded in 2007 by CEO Bob Reina, Talk Fusion introduced the world's first Instant Pay Compensation Plan. Talk Fusion adheres to the highest ethical business practices and is a member of the prestigious Direct Selling Association (DSA). Reina firmly believes that "with great success comes greater responsibility."
Talk Fusion fosters a strong commitment to giving back to friends, family, communities, and animal charities across the world to produce a positive global change. Learn more at www.TalkFusion.com and "Like" Talk Fusion at www.facebook.com/TalkFusion.
Income Disclaimer:
Any earnings portrayed in any Talk Fusion marketing materials are not necessarily representative of the income, if any, that a Talk Fusion Associate can or will earn through his or her participation in the Talk Fusion Instant Pay Compensation Plan. All references to income, implied or stated, throughout the Talk Fusion Instant Pay Compensation Plan are for illustrative purposes only. These figures should not be considered as guarantees or projections of your actual earnings or profits. Talk Fusion does NOT guarantee any level of income or earnings to any Associate; any representation or guarantee of earnings would be misleading. The purchase of a Talk Fusion Product Package is completely optional and is not required for an Associate to participate in the Talk Fusion Instant Pay Compensation Plan.