USANA CEO Dave Wentz Visits 13,000 Associates In Philippines
June 23, 2015
By Nicole Dunkley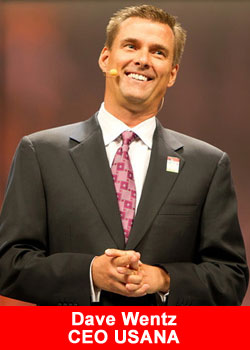 To inspire its over 13,000 associates in the Philippines, USANA Chief Executive Officer Dave Wentz recently visited the country to share his career story.His father, Dr. Myron Wentz, founded USANA, the Utah-based multi-level marketing company that produces various nutritional products.
For the first quarter of this year alone, USANA netted $219.4 million sales in its 19 markets worldwide, 20.3% more than the same period in 2014.Furthermore, the Wentz leadership inspired a growing number of active associates with 41.9% increase on membership.
With the high international sales, the company's earnings per share for the quarter increased to 30.4% to $1.50, against its $1.15 with the last year's first quarter. Significantly, the Philippines stays as its 3rd and 4th biggest market globally.
"We have strong Filipino groups in the US and in other markets. Plus, Filipino people are so unselfish. They really work hard to make sure everyone is successful," Wentz noted.So far, this June's All Star 2015 event in the country "was the biggest USANA event I've been to," he acknowledged.
"There's a lot of young distributors and I want to connect with them because they're starting their own businesses at a very young age. I started USANA when I was 23 years old."
Reaching for success is a series of calculated risks. "I want to share some of the fears I've overcome," he stressed.
About USANA
Founded in 1992, USANA Health Sciences is a U.S.-based nutritional company that manufactures high-quality supplements, personal care and energy products in its FDA-registered facility in Salt Lake City. Learn more about USANA by visiting our website https://www.usana.com or the official USANA blog https://whatsupusana.com.