Youngevity Subsidiary Inks Two Year $5.2 Million Coffee Contract
June 15, 2015
By Team Business For Home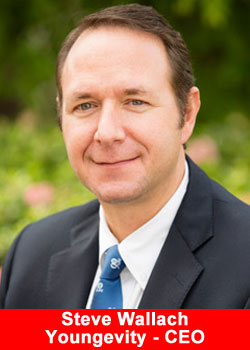 Youngevity International, Inc. announced today that its wholly owned subsidiary, CLR Roasters, has signed a five year agreement with JBM Sales & Marketing (JBM), a leading specialty food sales and marketing company.
The multi-year agreement grants CLR Roasters the exclusive right to roast, grind, and package eight different types of coffee products in single-serve capsules for two private label brands; Sarabeth's and Brew La La. Each year of the agreement, JBM will purchase $2.6 million of single-serve capsules for a total of $13 million single-serve capsules over the five year agreement. The first two years of the contract are guaranteed, although both CLR Roasters and JBM Sales and Marketing anticipate delivering product throughout the 5 year term of the contract. Upon the expiration of the five year term, the agreement provides for automatic renewals for successive terms of five years.
JBM Sales and Marketing CEO, Jerry Mintz, said, Both myself and our President, David Mintz, are quite impressed with CLR Roaster's expanding capabilities into the single-serve market. We are delighted to be working with such a fine company and growing our business together.
We are proud of CLR Roasters single-serve capabilities and this contract strengthens the continued growth of our private label business, said Ernesto Aguila, President of CLR Roasters. We are optimistic that our relationship with JBM Sales & Marketing will continue to expand given our full line of packaging services at CLR Roasters.
We are bullish about the positive impact our single-serve capabilities are having on our private label business. This multi-year contract exemplifies CLR Roasters ability to service our customers' needs on a full spectrum of packaging options. This contract will begin positively impacting CLR's business in the third quarter, said Dave Briskie, Youngevity's CFO and President of Commercial Development. We anticipate leveraging all aspects of our 'field to cup' capabilities including our single-serve packaging capabilities over the next several quarters.
About Youngevity International, Inc.
Youngevity International, Inc. (OTCQX: YGYI) (www.YGYI.com) is a fast-growing, innovative, multi-dimensional company that offers a wide range of consumer products and services, primarily through person-to-person selling relationships that comprise a network of networks. The Company also is a vertically-integrated producer of the finest coffees for the commercial, retail and direct sales channels. The Company was formed after the merger of Youngevity Essential Life Sciences (www.Youngevity.com) and Javalution Coffee Company in the summer of 2011, and changed its name to Youngevity International Inc. from AL International, Inc. in July 2013. For more information, visit www.YGYI.com
About CLR Roasters
CLR Roasters (www.clrroasters.com) was established in 2001 and is a wholly-owned subsidiary of Youngevity International. CLR Roasters produces coffees under its own Cafe LaRica brand, as well as under a variety of private labels through major national sales outlets, hospitality, cruise lines, health and wellness facilities, office coffee service providers, and convenience store distribution. It also produces a unique line of coffees with health benefits under the JavaFit® brand.