Zija International Introduces Product Advisory Council
June 4, 2015
By Nicole Dunkley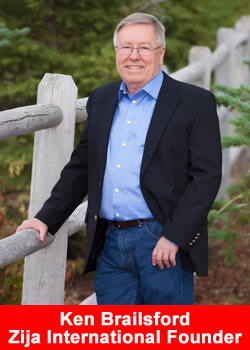 Zija International recently introduced the new Zija Product Advisory Council at their regional events in Cincinnati and Las Vegas. They put together an experienced and expert group of professionals to help the company maintain the highest quality of sourcing, validation, and delivery practices for their Zija Core Nutritionals, Améo Essential Oils, and Ripstix Fitness Supplements product lines.
As the company continues to grow at a rapid rate, they decided to create a team dedicated to this priority so they could continue to confidently ensure all of their customers and Distributors that they are getting products that have been produced at first-rate farms and facilities. The new advisory board consists of five individuals who are highly specialized in their fields and have years of experience. Read more about the company's new Zija Product Advisory Council below:
Dr. Joshua Plant
Chairman, Zija Product Advisory Council
Graduated from Harvard Medical School first in his class; completed an 8-year program in 3.5 years

Ph.D. in Biomedical Sciences

Selected as 1 of 14 international recipients of the NIH Research Fellowship Award

Published across several scientific journals for his work on cellular growth, metabolism and other health-related topics

Oversees the creation and quality of the Zija Core Nutritionals, Améo Essential Oils, and Ripstix Fitness Supplements Products
Daniel Pénöel, M.D.
World Leading Essential Oil Expert & Medical Practitioner
Appreciation for the earth and a desire to protect it

Doctor of Medicine and homeopathy

Learned about the power of clinical-grade essential oils for normal body function

Has used essential oils as a practitioner around the world, including France, Australia and England

Has published several books and been a public speaker worldwide

His mission: to empower individuals to take charge of their health and well-being in a natural way, making essential oils a core part of their life
Pierre Franchomme
World Leading Phytopharmacologist
15+ years of pharmacological lab management

Leading expert in essential oil screening, with an emphasis in inflammation and neurosciences

Product formulator for several well-known health, wellness and beauty brands including Estée Lauder, Origins and Aveda

Author of several books including aromatherapy "Bible"

Has traveled the world studying and discovering new aromatic plants and essential oils

Introduced to the field of aromatherapy oils from Corsica, Australia, Tasmania, Cameroun, Peru and Madagascar
Dr. Doug Nelson
Farming and Sourcing Expert
Ph.D. in education from the University of New Mexico

Former associate professor of recreation management, Brigham Young University

Founder, Boulder Outdoor Survival School

Global Farm Manager, Global Farm Operations Strategic Advisor, and Strategic Advisory Council in the essential oil industry

Oversaw the production and distillation of essential oil farms in Utah, Idaho, France and Ecuador

Believes that natural environments can contribute to the overall progress and health of the human body and spirit
Karen Jensen, MH, CM
Healthy Living Expert
Master Herbalist, trained at Dr. John R. Christopher's School of Natural Healing

Certified midwife

Has published several books about herbal health and midwifery

Developed and taught courses for the Certified Natural Health Professional under the direction of Dr. W. W. Whitman

Bachelor's and Master's degrees in Marriage and Family Research

Enjoys sewing, cooking, natural health continuing education, gardening, and keeping a small hive of bees
About Zija International
Zija International, a privately held and privately funded business founded by Kenneth E. Brailsford and run by Rodney Larsen, develops natural health, wellness, nutrition and fitness products. The company operates in more than 50 countries worldwide.
Zija has seen consistent growth every year since it was founded over 9 years ago and was recently named the "Fastest-Growing Company in Utah" by Utah Business Magazine. It has also been recognized on fastest-growing and top-revenue lists by Inc. Magazine, Direct Selling News, and Utah Valley Magazine, to name a few.
With corporate offices located in Lehi and more than 4 million sq. ft. of state-of-the-art warehouse, shipping and manufacturing facilities located in Utah, United States, Zija International employs more than 200 individuals and has the capacity to grow to more than two billion dollars in annual sales.