Zrii Hires Carlos Lopez Ortega As New Regional Vice President Of South America
June 18, 2015
By Tina Williams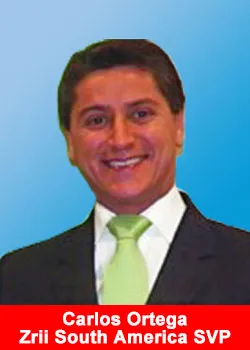 Zrii announced today the hiring of Carlos Lopez Ortega as Regional Vice President of South America.
Mr. Lopez Ortega brings to Zrii a wealth of experience working for billion-dollar, multi-national brands including Herbalife, Redbull, and Coca Cola; experience which the Zrii believes will help propel its South American markets to record sales. Zrii created the position of Regional Vice President of South America due to the unprecedented growth the company is experiencing across South America.

Mr. Lopez Ortega is originally from Colombia and will be based there with Zrii, with plans to travel extensively to the company's current markets as well as upcoming markets. He has extensive experience in sales, marketing, brand management, operations, and logistics, and is a trusted liaison with distributors.
He also brings experience from working with many South American markets; including Argentina and Brazil, with companies such as Redbull, Coca Cola, El Tiempo, Reckitt Benckiserr, and others. He most recently held the position of General Director of Herbalife Colombia, where he propelled sales in the country to triple-digit growth, positioning Colombia as the most important country in the region for Herbalife.

"I am extremely excited to assume the role of Regional Vice President of South America for Zrii," confirmed Mr. Lopez Ortega. This position will allow me to work closely with the region's field leaders to help them achieve stellar results.

Zrii is on its way to becoming one of the biggest network marketing brands in the world, and our South American markets will play a huge role in that success. It is an honor to join such a stellar company and to work with CEO Bill Farley, President A.K. Khalil, and the entire corporate staff.

Carlos Lopez Ortega is 46 years old, and has studied Industrial Engineering, Business Administration, Strategic Marketing. He has his MBA and Masters of Management from Tulane University in the United States. He speaks Spanish, English, and Portuguese.