DoTERRA Cracks Down After FDA Threats
July 28, 2015
By Tina Williams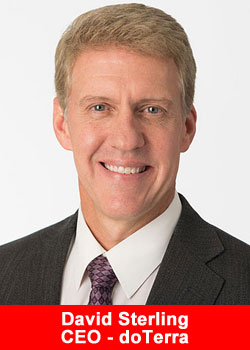 The company whose homeopathic oil products have exploded in popularity over the last few years is tightening up its health claims, hoping to duck punishment from federal regulators.
DoTERRA, a seven-year-old direct marketing company in Utah, sent a letter to sellers — dubbed wellness advocates — on Monday, warning them to strip their websites, Facebook pages and other social media accounts of claims that could get the company into trouble with the Food and Drug Administration.
According to the new compliance guidelines, sellers may only make doTERRA-approved assertions about essential oils and must replace personal websites where they market the oils with replicated websites pre-approved by the company.
In addition, advanced-level sellers must view training videos on how to talk about the products and take an online test before Aug. 2.
We need to see much faster and more far-reaching improvement with our efforts to eliminate inappropriate claims, wrote doTERRA President David Stirling. We want to reiterate our longstanding policy that doTERRA products are not drugs and may not be promoted to diagnose, treat, cure or prevent any disease. No one should make any such claim about our products.
Essential oils have enjoyed enormous popularity in recent years, as doTERRA and other direct-marketing companies have harnessed the power of Facebook and other social media to spread word.
DoTERRA sells several dozen kinds of oils and oil blends, such as peppermint, frankincense or lemongrass, claiming they strengthen the immune system, promote healthy respiratory function and improve bodily functions in many other ways.
The company drew the FDA's attention last year, when the agency sent a letter warning that its sellers were making illegal medical claims about the oils — such as saying they could cure conditions as serious as Ebola or cancer. Because essential oils are considered a cosmetic for regulatory purposes, it's illegal to claim they cure specific health conditions.
DoTERRA warned sellers earlier this year to pare down their claims. But the letter implies the company is still fearful of FDA retribution, as Stirling warned of punishment for failure to comply.
Discipline for violating these guidelines and resisting compliance may include a monetary fine, account suspension or termination, he wrote. If these changes do not result in the desired outcomes, more changes will likely need to be made.
The new policy means distributors — most often women who sell the oils as a home business — must scour their online footprints for non-compliant claims. For Cara Mendez, a St. Louis-area mother of four, that likely means removing from her Facebook page self-made videos where she talks about how the oils cured her kids of a cold.
You can't say cough, because 'cough' is making a disease claim, she said. So I have to take that down.
If sellers want to make statements about oils that aren't officially condoned by doTERRA, they can't mention the company's name. And that frustrates Hollie Silberhorn, another Missouri mom who has sold oils for several years.
I'm grumpy that I can't use doTERRA, she said. A lack of brand recognition in association with me will hurt my overall marketing and ability to get doTERRA's name out there.
But the company's actions aren't particularly surprising, considering that consequences for non-compliance can be severe. If the FDA considers it noncompliant after the initial warning letter, the agency can have the U.S. marshal seize the products or file for an injunction to stop the company from shipping — which would essentially put it out of business.
And if the FDA believes sellers are intentionally making a fraudulent claim, that's potentially a criminal offense, which can land them in jail.
The problem stems in part from a loosening of law in the 1990s around what kinds of claims were allowed for dietary supplements. Under the Dietary Supplement Health and Education Act of 1994, dietary supplements were put under a new regulatory framework and companies could legally make health claims about them.
Essential oils and other aromatherapy products don't fall into that category. But they are often sold alongside dietary supplements, meaning they may get looped into unproven health claims made by sellers of the products.
The dietary supplement industry took off because suddenly they were able to make claims, said former FDA regulator Larry Stevens, who now works for the FDA Group. The problem is cosmetics don't have that same kind of freedom.
Originally reported by the Washington Examiner