Genesis Today Appoints New CEO
July 12, 2015
By Nicole Dunkley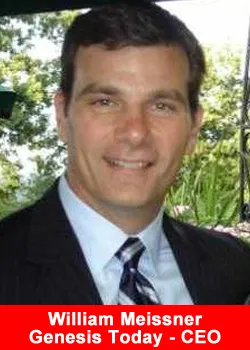 Genesis Today, Inc., a leading provider of nutritional supplements, foods and beverages based on natural superfoods, recently announced that William Meissner has joined the company as CEO.
Meissner has a highly successful track record growing established and emerging brands, including SoBe, NOS Energy, FUZE, Talking Rain Beverages, Jones Soda and Tazza Pronto. He brings more than 20 years of executive management and leadership experience to Genesis Today.
Meissner joins Genesis Today from Tazza Pronto, a privately held coffee and hot beverage manufacturer, where he was president and CEO. Previously, he served as president and CEO of Jones Soda, a publicly traded premium soft drink company; president of Talking Rain Beverage, a privately held sparkling beverage company; and chief marketing officer of FUZE Beverage, a new-age beverage company acquired by Coca Cola.
He also has experience with Coca-Cola, PepsiCo and Tetra Pak. Meissner received an MBA from the University of Pittsburgh Katz Graduate School of Business and a BA from Michigan State University.
We are excited to have Bill join Genesis Today as we look to build the product portfolio and reach customers through more diverse channels, said David Collier, a member of the Genesis board of directors. His vision and experience fit perfectly with the company's growth strategy and the heightened interest of consumers in natural and healthy foods, beverages and supplements.
Meissner said, The Genesis Today product line is among the very best in the natural channel, and is ready for a large and sustained multi-channel expansion.