Herbalife Wins Dismissal Of 'Pyramid Scheme' Lawsuit
July 31, 2015
By Tina Williams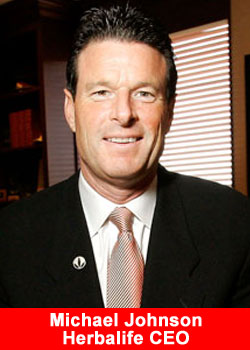 BisJournals.com reports:
A federal judge has once again dismissed a lawsuit accusing nutritional products maker Herbalife Ltd. of misrepresenting its business structure and sales practices as legitimate when it amounted to a pyramid scheme, a charge the the company has denied.
U.S. District Judge Dale Fischer in Los Angeles on Tuesday said the plaintiffs, led by the Oklahoma Firefighters Pension and Retirement System, did not show that Herbalife(NYSE: HLF) or its chief executive, Michael Johnson, defrauded shareholders, according to Reuters.
Fischer in March had dismissed an earlier version of the lawsuit.
Shareholders had filed suit claiming they lost money after billionaire hedge fund manager William Ackman accused Herbalife of operating a pyramid scheme. In December 2012, Ackman said his firm, Pershing Square Capital Management LP, had made a $1 billion bet that Herbalife's stock price would fall.
Fischer in his dismissal of the lawsuit in March said Ackman's claims alone weren't sufficient evidence that Herbalife committed fraud and gave plaintiffs until April 8 to file an amendment.
In his ruling this week, Fischer said Johnson's reducing his Herbalife stake by a 12 percent over a year, "while undeniably large," did not raise suspicions, nor did disclosures that top executives expected some form of disciplinary action over the company's business practices, Reuters said.
Herbalife openly disclosed that it was susceptible to legal challenge precisely because its practices occupy the gray area between legitimate multi-level marketing company and illegal pyramid scheme, Fischer wrote, according to Reuters.
The judge said the plaintiff may file an amended complaint by Aug. 27.
We are disappointed with the ruling and will determine our next steps after consultation with the client, Maya Saxena, a lawyer for the Oklahoma fund, said in an email to Reuters.
Herbalife has denied any wrongdoing and, in March, said it welcomed the judge's decision to dismiss the lawsuit.
As we have consistently stated, we are confident in the strong fundamentals of our business model, spokesman Julian Cacchioli said in a statement at the time.
In May, another federal judge granted final approval to a $15 million settlementamong Herbalife and five former distributors who said the company misled them. The company agreed to pay $15 million in cash, plus up to $2.5 million for product returns, and said it would make changes to its business model.
Herbalife sells weight-management, nutrition and personal care products in more than 90 countries through a network of independent members.