Industry Newcomer Gavin Neatherland Hits 300K With LIMU
July 6, 2015
By Nicole Dunkley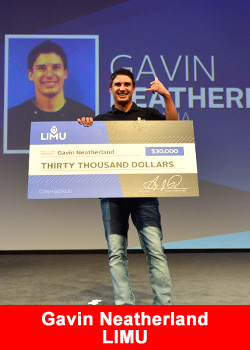 LIMU Promoter Gavin Neatherland was following the safe career course, the one that most young people are encouraged to stick to: a regular job in Corporate America. But that all changed when he realized there was a better way to design his future. Now he's hit the 300K rank with LIMU and his life will never be the same.
"I've worked hard all my life, and being young I was focused on climbing the corporate ladder as a regional manager for a furniture company. But those 70+ hour weeks were draining and I really had no time at all for life," Neatherland says.
"In 8 years with them, I never even got a bonus. I had student loans and credit card debt up to my ears, and even with a decent job I had to move back in with my parents. That was totally embarrassing and I knew I had to make a change and do something different. When I started with LIMU, I'd never done anything like this before. But I worked with my sponsor and got the hang of it pretty quickly, earning my free BMW in less than a month and reaching the 50K rank after just 50 days. With a lot of hard work, I've kept climbing the ranks and I'm now retired from the corporate world and building my LIMU business full-time. Now living on my own and totally debt-free at just 29 years old, I can absolutely say that LIMU has turned out to be the opportunity of a lifetime for me!"
Gavin has just recently earned a $30,000 cash bonus from the company for hitting the 300K rank, and that's on top of earlier bonuses he earned, $10,000 at the 100K rank and $20,000 at the 200K rank. Those early bonuses that helped Gavin pay off all his debt are just part of the LIMU story, because LIMU Promoters have the opportunity to earn a total of $730,000 in cash bonuses as they achieve ranks from 100K to 2M. And those bonuses are on top of regular LIMU commissions.
"Gavin's story is one we see quite often at LIMU, because we have tens of thousands of people without industry experience having great success," said Gary J. Raser, Founder, President and CEO. "Young people today have fewer job opportunities than in the past, and they're often stuck in low-paying jobs and with debt they can't easily pay off. In LIMU, Gavin not only found a way out from the long hours and low pay of his corporate existence, but he also realized that he could create a very different life even at a very young age. It's so rewarding for us to see Gavin's success, and we congratulate him as one of our newest 300K Promoters."
About LIMU
Founded in 2004, and profitable and debt-free from day one, LIMU is a leading direct sales company focused on providing entrepreneurs with exclusive and proprietary Fucoidan-rich products made in the USA, along with the unique opportunity to create their personal LIMU Experience and Be More. Award-winning branding and marketing support LIMU Promoters around the world, and state-of-the-art technology platforms make it easy for Promoters to share the LIMU Experience and build strong global businesses. With over 1,100 independent, third-party, unsolicited studies on its super-nutrient Fucoidan – available on pubmed.gov – the company is the acknowledged category-creator and worldwide leader for LIMU products.
LIMU and the LIMU logo are registered trademarks of The LIMU Company, LLC in the U.S. and other countries.
For more information, please visit: www.thelimucompany.com and www.yopros.com
Follow LIMU on Facebook, Twitter, YouTube and Instagram:
https://www.facebook.com/LIMUco
https://youtube.com/LIMUcompany
https://www.instagram.com/theLIMUcompany
Source
LIMU