Isagenix Nearing $1 Billion In Revenue
July 8, 2015
By Tina Williams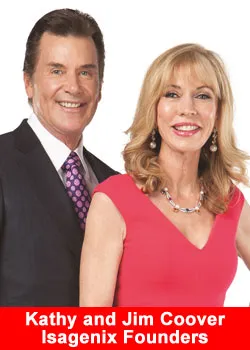 Direct Selling News released a promising article for Isagenix:
Health and wellness company Isagenix hopes 2015 will be Lucky No. 13—its 13th year in business, and more important, the year it strives to reach a cool $1 billion in revenue.
The hopeful achievement was barely a glimmer on the horizon even two years ago. The company's 2013 sales were a respectable $448 million. But since then, Isagenix's focus on communications, promotions and tools, plus the launch of a simple system that benefits everyone from leaders to newbies, has yielded double-digit growth each year. And with its fastest-growing distributor demographic being 18- to 35-year-olds, the company's future looks just as bright as its past.
Fast growth has been an Isagenix International tradition. Founders John Anderson and Jim and Kathy Coover came out of a financially secure retirement because they had a vision: to impact world health and free people from physical and financial pain, and through that goal, create the largest health and wellness company in the world. Their product category, nutritional cleansing, gave them a solid start. Growth was brisk for a few years and then it settled into a pattern of low but steady increases.
But growth skyrocketed when Anderson created the Isagenix Cleansing and Fat Burning System and the company teamed it with the IsaBody Challenge. The result: It achieved 2011 net sales of $262 million; climbed to $334 million in 2012; ascended to $448 million in 2013; and jumped to $725 million last year.
The trajectory of distributor growth has been at least as impressive. Since 2011 the company has had an average of more than 40 percent growth each year in its distributors, which it calls independent associates. This year that number is expected to exceed more than half a million active associates. Last year that total reached 426,000. International growth contributed to those numbers—Isagenix now does business in 13 countries around the world—but its success is mostly made in America. Some 79 percent of its business is still in North America.
Positioning for Growth
When it opened its doors in 2002, Isagenix quickly became known for its cleansing and weight-loss products. While it offers effective weight-loss solutions such as IsaLean Shakes, it has also developed a line of nutritionals that appeal to professional athletes, such as IsaPro whey protein; and to baby boomers, such as the Ageless Essentials Daily Pak of vitamins and minerals; as well as to those who want to get leaner.
"In 2012 we celebrated our 10-year anniversary by launching two significant initiatives that were focused on our product users and our associates," explains CEO Kevin Adams. "First, we repositioned our product line from World Leader in Nutritional Cleansing to Solutions to Transform Lives. We realized that we were much more than a nutritional cleansing leader, and as we looked ahead to the next 10 years, this new positioning allowed us to both expand our customer base and also provide the next solution for those who achieve their weight-loss goals.

We began to focus more on helping our product users become product sharers. We created new tools and promotions to not only activate their customer base but also build strong leadership within their teams. By strengthening our product line and product positioning while empowering our associate leaders, we knew we were better able to realize our mission."
Isagenix now does business in 13 countries around the world—but its success is mostly made in America. Some 79 percent of its business is still in North America.
At its annual Celebration gathering in August, Isagenix will introduce a new product line of premium and organic slow-roasted coffee. Before making the decision to offer a line of coffee, the company's research and science team followed the studies on the benefits of natural caffeine and coffee consumption as well as determined how coffee could be incorporated with existing Isagenix nutrition systems.
Products have always been the foundation for expanding the army of Isa-lovers. With the expansion of the product line came the ability to create greater income opportunities for distributors.
Chief Sales Officer Travis Garza notes, "That includes weight loss, energy and performance, healthy aging and wealth creation. Today we have more than 450 people who have lost more than 100 pounds, and thousands who have lost smaller amounts of weight.

But we also have a growing number of pro athletes using our products for energy and performance, as well as baby boomers looking for ways to feel great and look years younger. The expanded product line has been a great win for us."
To add even more life-changing fuel to expanding the product line, Isagenix supported product sales and its distributors with the 90 Day Game Plan. Garza says the 90-day concept has been around for years, but about three years ago the company introduced a simplified version that spells out exactly what a new associate needs to do each week for 90 days. The result: an aligned field leadership team that can confidently coach new recruits to success by using a consistent method worldwide. It includes techniques on how to effectively communicate through social media, phone calls and three-way calls, as well as individual conversations.
Garza says the plan has resulted in more recruiting, more leaders being developed, greater retention, and even greater product awareness than at any point in the company's history. He calls its influence the catalyst to record growth.
The top 20 sales days in Isagenix history have been in the last two years, partly due to the 90 Day Game Plan. And while Isagenix doesn't release retention figures, Garza notes that for a company its size, "even a 1 percent retention increase is tremendous. We see even stronger retention in the future."
The full article can be found on directsellingnews.com