LIMU Continues Strong Showing With 5 More Stevie Awards
July 15, 2015
By Nicole Dunkley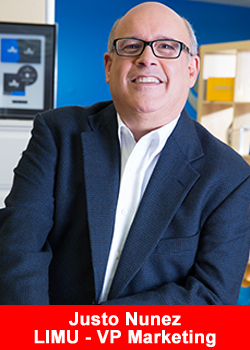 LIMU has just won 5 more American Business Awards, bringing its total to 14 "Stevies" announced in the last twelve months, including BLU FROG 2 being named People's Choice for Best New Consumer Product in the 2014 American Business Awards. Now with 175 national and international awards earned for its marketing and branding in the last 17 months, LIMU continues its world-class support of all LIMU Promoters.
LIMU recently won 2015 Stevie Awards for the following:
LIMU Corporate Website (Websites: Consumer Products)

LIMU Opportunity (Video: Corporate Overview)

LIMU Products (Video: Corporate Overview)

LIMU Reward Trips (Video: Corporate Overview)

LIMU BMW CLUB—Let's Roll (Video: Branded Entertainment)
"The Stevie® Awards" are known as the "Oscars" of the business world and represent the world's premier business awards program. Created in 2002 to honor and generate public recognition of the achievements and positive contributions of business organizations and working professionals worldwide, Stevie Award judges include many of the world's most respected executives, entrepreneurs, innovators and business educators. Each of their global business award programs harness the insights and talents of more than 200 business expert judges every year.
"These latest Stevie Awards again confirm that our focused branding is viewed as a very strong element by business experts," Vice President of Marketing Justo Nunez said. "The awards we just received, and all of the awards we've earned over the past year and a half, again serve to emphasize the focus we have on providing our LIMU Promoters with the strongest marketing in the industry. Specifically designed to help Promoters create successful businesses, our marketing materials, videos, digital tools and websites continue to build on the strong tradition of excellence that LIMU is known for."
LIMU has continued to garner significant national and international recognition with an average of 10 awards for excellence every month over the last 17 months in a wide variety of fields, including business, marketing, creativity, packaging, event planning, videography, graphic design, mobile applications, website development, digital media and social media arenas.
LIMU has also received other notable awards over the past 17 months from prestigious organizations and competitions including the MarCom Awards (14), Davey Awards (7), W3 Awards (9), Videographer Awards (7), Telly Awards (4), Summit International Awards (14), Communicator Awards (30), Hermes Creative Awards (15), Creativity International Awards (15) AVA Digital Awards (19), and both Graphic Design USA: American Graphic Design Awards (18) as well as Graphic Design USA: American Packaging Design Awards (3).
About LIMU
Founded in 2004, and profitable and debt-free from day one, LIMU is a leading direct sales company focused on providing entrepreneurs with exclusive and proprietary Fucoidan-rich products made in the USA, along with the unique opportunity to create their personal LIMU Experience and "Be more". Award-winning branding and marketing support LIMU Promoters, and state-of-the-art technology platforms make it easy for Promoters to share the LIMU Experience and build strong global businesses. With over 1,200 independent, third-party, unsolicited studies on its super-nutrient Fucoidan – available on pubmed.gov – the company is the acknowledged category-creator and worldwide leader for LIMU products.
LIMU and the LIMU logo are registered trademarks of The LIMU Company, LLC in the U.S. and other countries.
For more information, please visit: www.thelimucompany,com and www.yopros.com
Follow LIMU on Facebook, Twitter, YouTube and Instagram:
https://www.facebook.com/LIMUco
https://youtube.com/LIMUcompany