More Than 4,000 Turn Out For Vemma's Latin America Events
July 23, 2015
By Tina Williams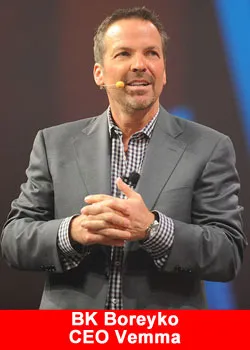 More than 4,000 Vemma Affiliates packed out ballrooms across Latin America in early July in four cities spanning Mexico to Colombia. Vemma Founder & CEO BK Boreyko jet-setted from city to city sharing details about the new Vemma Two & Go Action Plan, recognizing Colombia's first Vemma Elite member and much more as part of his Latin America Tour.
With stops in Monterrey, Mexico, Mexico City, Mexico, Medellín, Colombia, and Bogotá, Colombia Vemma Affiliates and their guests flocked to the meetings to find out why Vemma is catching on in their area.
In Medellín, Colombia, Vemma recognized its first Elite member, Efrain Sarmiento, who skyrocketed to one of the company's top ranks, Presidential. Efrain has already surpassed that rank and hit Star Presidential.
"I am so impressed by the momentum we're experiencing in Latin America," shared BK. "We will definitely be breaking records over the next few months."
Vemma leaders Star Ambassadors David and Debbie Reeder will continue "fanning the flames" in the coming weeks by hosting three more meetings in the area: Wednesday, August 19 in Medellín, Colombia; Thursday, August 20 in Cali, Colombia, and a Super Saturday event on Saturday, August 22 in Bogotá, Colombia.
"The excitement in Colombia is off the charts and we want to keep it going," shared Debbie. "We want to say congratulations to all of our team leaders for their success bringing in record numbers for the meetings and we are so grateful to BK for going on the tour."
BK will be traveling across the world in the coming months on two tours. He'll kick everything off August 6-8 on his Europe Tour with stops in Sweden, Germany and Italy. Then, he'll travel halfway across the world September 4-6 on his Asia Tour with stops in Hong Kong, Malaysia and Taipei.
About Vemma
Founded in 2004 by BK Boreyko and his two sisters, Karen and Lauren, Vemma Nutrition Company has become known as one of the premier industry leaders specializing in premium liquid nutrition. Every month, thousands of new customers experience the positive difference of the clinically studied Vemma Formula.
The Vemma brands include the clinically studied Verve® healthy energy drink and Vemma Bod-e®, a transformational weight loss line. Vemma is headquartered in Tempe, Arizona, and distributes its products in more than 50 countries through global affiliate marketing. For more information, please visit Vemma.com.