Primerica To Host 40,000 Attendees At Upcoming Event
July 6, 2015
By Nicole Dunkley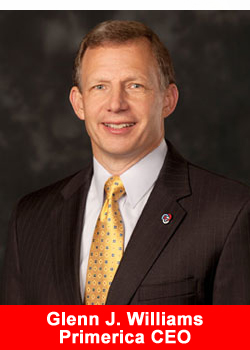 The city's largest corporate meeting will return to Atlanta in July, bringing an estimated 40,000 attendees and an economic impact of approximately $34 million to Atlanta. Primerica will host its biennial summer convention at the Georgia World Congress Center (GWCC) and the Georgia Dome, July 15-18, 2015.
"The 2015 Primerica Convention is one of Atlanta's largest meetings and serves as a strong economic driver for our city," said William Pate, President and CEO, Atlanta Convention & Visitors Bureau (ACVB). "This event is a great example of a local corporation that not only supports our local economy but also provides an additional boost by hosting its international meeting here."
Glenn Williams, Primerica CEO, said, "We are excited to have strong momentum as we gather at this celebration of success. We've experienced growth across our business year-to-date. Our life insurance licensed sales force has increased to 101,008 representatives driven by 15% growth in new life insurance licenses during the second quarter.
Also in the second quarter, we achieved 20% growth in representative recruiting and a 14% increase in Term Life insurance policies issued over 2014. In our Investment and Savings Products sales in this year's second quarter, we achieved 8% growth over our record-setting performance during the same period last year. I'm proud of the efforts of our Field Leadership and the home office team in driving this growth to make a difference in more lives of Main Street families.
"Our Convention provides a great opportunity for us to celebrate our accomplishments and set the course for the remainder of the year. The event will bring together tens of thousands of our teammates in the Georgia Dome where they will learn from dynamic leaders, attend workshops and seminars, and enhance their skills. We will use this forum to build on the strong momentum we achieved in the first half of 2015. It will provide an added boost as we work to maximize the many opportunities that lie ahead for Primerica, our clients, and our Field Leaders."
About Primerica, Inc.
Primerica, Inc., headquartered in Duluth, GA, is a leading distributor of financial products to middle income households in North America. Primerica representatives educate their Main Street clients about how to better prepare for a more secure financial future by assessing their needs and providing appropriate solutions through term life insurance, which we underwrite, and mutual funds, annuities and other financial products, which we distribute primarily on behalf of third parties. In addition, Primerica provides an entrepreneurial full or part-time business opportunity for individuals seeking to earn income by distributing the company's financial products. Primerica insured more than 4 million lives and had over 2 million client investment accounts at December 31, 2014. Primerica stock is included in the S&P MidCap 400 and the Russell 2000 stock indices and is traded on The New York Stock Exchange under the symbol "PRI".