SolarCity Signs Up 100k Solar Ambassadors
July 21, 2015
By Team Business For Home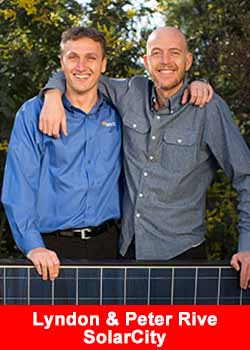 Clean energy company SolarCity has been growing at an impressive rate with a customer base now in the hundreds of thousands. The company has experienced near double CAGR over the past few years, and has grown to become the largest residential solar company in America by far.
Founded in 2006, SolarCity has customers in Arizona, California, Colorado, Connecticut, Delaware, Hawaii, Maryland, Massachusetts, Nevada, New Jersey, New York, Oregon, Pennsylvania, Texas, Washington and Washington D.C.
An important driver of the growth has been the company's Solar Ambassador program modeled after the MLM business model, which has quickly overtaken traditional customer acquisition methods. Although SolarCity's Solar Ambassador program was started only about a year ago, approximately 100,000 individuals have already signed up to be solar ambassadors.
At the end of the first quarter of 2015, the company had close to 218,000 customers, a number, the company took nearly a decade to reach. Comparatively, the solar ambassador program, which had approximately 30,000 ambassadors last December, grew to 70,000 ambassadors in just 4 months at the end of Q1 and has ballooned to the current 100,000 figure.
Referrals have been one of the cheapest, yet most effective customer acquisition tools for SolarCity. With the Solar Ambassador program, the company supercharged the referral process by adding monetary incentives to not only refer customers, but to also sign up more solar ambassadors. Although the cost of this referral process comes out to around a few hundred dollars per customer acquired, it is more than worth it for SolarCity given the thousands of dollars in value gained from a single customer.
With a stunning 100,000 ambassador fleet and rapidly growing, the Solar Ambassador program should have a significant outsized impact on the company moving forward. At a market capitalization of $5.1 billion and growing, SolarCity Ambassador program is expected to play a vital role in helping the company reach its one million customer goal by mid-2018.