Stella & Dot Reaches 3000 Stylists In UK
July 20, 2015
By Team Business For Home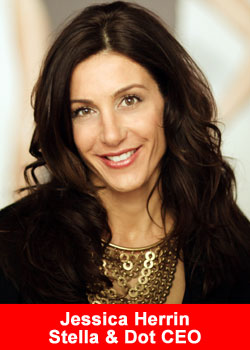 Stella & Dot just celebrated their annual European sales conference in London and CEO Jessica Herrin flew down from San Francisco to join the celebrations.
42-year-old Herrin, whose company had global revenues of £130 million in 2014, outlines her "mission" not just to turn a profit, but to "give women a confidence and a voice, ultimately to help them style their lives. We're about more than accessories. We're about the conversation of women and work."
The company launched in UK four years ago, and there are now 3,000 British stylists. Some work full-time and can earn excellent money (the UK record is £15,000 in one month) by running "teams", who they train in return for commission. Eight out of 10, however, work just a few hours a week as regular stylists, fitting it in around family and full-time jobs and bringing in just a couple of hundred pounds.
Stella & Dot's concept is simple. There are no shops. Sales are all online or via "stylists": women who have bought a starter kit of jewellery and other accessories such as scarves and handbags for £169. They then throw "trunk shows" – like Tupperware parties – where guests are encouraged to have a few drinks, a gossip and, ideally, leave with some vintage-inspired trinkets.
Best-sellers include the Zoe lariat necklace at £85, the gold Pegasus necklace at £170 and the Eva "ear jackets", earrings that can be styled in several ways at £40. Stylists take home between 25 and 35 per cent commission, earning themselves a total of over £175 million to date.
400,000 people in the UK are currently employed in direct selling, as it's officially known, according to trade body, the Direct Selling Association. 82% of direct sellers work part-time and 29% of direct sellers are aged over 50. Three in four direct sellers are women
Half-Italian, half-Ukranian, Herrin grew up in LA and attended Stanford Business School.
"I always feel so lucky to be born in the place and moment that I have been. It's really recent in history that women have the choices I've had compared to my grandmother." The company is named in honour of two grandmothers: her own, Stella, and that of her creative director Blythe Harris, Dot.
Herrin dropped out of business school to found the online wedding-gift registry Wedding Channel, which she sold in 2006 for £40 million. By then married to Chad Herrin, who works for a software company, she began wondering how to combine her career with children. Inspiration came when she was standing in a lift with a group of saleswomen for Mary Kay, a US cosmetics company run in a similar way to Avon.
"I could see the pride and passion in these women's faces. This was a company that had been around for a while and it struck me as something phenomenal, but not right for my generation."
So, during her first pregnancy, she worked on creating a contemporary direct-sales company that used the internet and focused on accessories. "There was a lot of expensive jewellery out there and a lot of high street, but nothing in the middle. I wanted stylish pieces that everyday women could afford."

The trunk shows took off immediately. "Jewellery is a social thing. Women love to compliment each other, and stylists can demonstrate how to wear the pieces."
The stylists also use social media to show off their goodies. "I'll put up a selfie wearing a £3 Primark T-shirt and £100 Stella & Dot necklace, to show you don't need to spend a fortune on your clothes," says civil servant Sonia Kaye, 33, from Croydon, who has been a stylist since 2011. "Then at one of our trunk shows you can try it on while drinking a glass of wine and without any snooty shop assistants."
It's not all glamour. In coffee breaks at the conference, the stylists laugh about standing around awkwardly at school fairs and car-boot sales, and the trunk shows in private homes when, as one puts it, "the hostess [incentivised by free jewellery] is so drunk, she forgets to encourage anyone to buy."
But overall, they seem infused with optimism, buoyed by their 40 per cent discount, the work's social opportunities and the recognition it offers – top stylists are allowed to name pieces of jewellery. They also relish the camaraderie, meeting to exchange sales tips and support each other through personal ups and downs.
While many may still be dubious about whether women selling bling to other women can really be a revolutionary force, there's no doubt that Herrin is making an impact in the lives of many women.
Source: Telegraph