Talk Fusion Celebrates Eight Years Of Industry Leadership
July 1, 2015
By Nicole Dunkley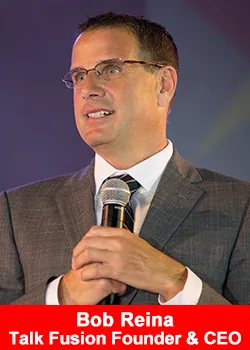 It began as a dream of including video in an email and became an industry-leading company with the goal of helping others pursue their own dreams. Changing the way people communicate around the world since 2007, Talk Fusion celebrates its 8th birthday on July 2nd with plans to accelerate their momentum ever faster before they turn 9 in 2016.
Talk Fusion Founder & CEO Bob Reina reflected on the historic journey. "When I started this company eight years ago, we had just one product: Video Email. Now it's grown into a whole plethora of video communication products that are used by businesses of every size – small, medium, and large – as well as for personal communication all over the world."
Talk Fusion continued to expand their product offering over the years, building and perfecting their own technology. They carved out an original niche in the direct selling industry that remains untouched to this day with their exclusive Video Email and Newsletters, Live Meetings video conferencing, and Video Chat.
"Talk Fusion's position inside the industry is very unique," Bob stated. "There's no other company in our industry that offers video communication products in the same manner we do, with the same product line that we do, with the same pricing we do. For us, it means opportunity.
"The same thing is actually true outside of the industry, too. There is absolutely no other company in the world that offers all of the same products and services that we do under one roof."
Beyond the exceptional cutting edge product line, in October 2010 Talk Fusion also transformed the way Associates get paid by introducing a concept never seen before in the 70+ years of the direct selling industry: Instant Pay. Not only was this unconventional method of paying Associates a world first, it has never been imitated or duplicated; Talk Fusion remains the first and only company with this exclusive payment plan.
Bob is resolute on the power of Instant Pay. "My philosophy is this: I want as many people in the field earning commissions as quickly as they can–because what gets rewarded gets repeated. Our Instant Pay Compensation Plan is a huge advantage for us. This is one of the reasons why we've created some of the top earners in the industry."
Even with the distinctive video communication products and their unique industry-leading payment plan, the Talk Fusion opportunity still embraces the tried-and-true core of direct selling.
"As much as this industry changes, certain things never do," Bob remarked. "People are always looking for additional income. People are always looking for more time freedom. No matter where you go, whether you're in Africa or Singapore or Maui, people always have dreams. We're in the business at Talk Fusion of helping people's dreams come true. That's the spirit and culture of Talk Fusion."
Innovation is also deeply ingrained in the spirit of the company. Talk Fusion is in a constant quest to advance, enhance, and expand; they're on the precipice of even more major milestones and product releases that will create a new and truly ground floor opportunity.
That is the core of Bob Reina's plan for his company. "This is actually the perfect timing at Talk Fusion."
ABOUT TALK FUSION
A trend-setting industry leader, Talk Fusion has been connecting people around the world since 2007 through cutting-edge video technology for social and business communication. Talk Fusion's innovative video products are marketed person-to-person by independent Associates in more than 140 countries, empowering them to earn the financial freedom to live their dreams.
Founded in 2007 by CEO Bob Reina, Talk Fusion introduced the world's first Instant Pay Compensation Plan. Talk Fusion adheres to the highest ethical business practices and is a member of the prestigious Direct Selling Association (DSA). Reina firmly believes that "with great success comes greater responsibility."
Talk Fusion fosters a strong commitment to giving back to friends, family, communities, and animal charities across the world to produce a positive global change. Learn more at www.TalkFusion.com and "Like" Talk Fusion at www.facebook.com/TalkFusion.
Income Disclaimer:
Any earnings portrayed in any Talk Fusion marketing materials are not necessarily representative of the income, if any, that a Talk Fusion Associate can or will earn through his or her participation in the Talk Fusion Instant Pay Compensation Plan. All references to income, implied or stated, throughout the Talk Fusion Instant Pay Compensation Plan are for illustrative purposes only. These figures should not be considered as guarantees or projections of your actual earnings or profits. Talk Fusion does NOT guarantee any level of income or earnings to any Associate; any representation or guarantee of earnings would be misleading. The purchase of a Talk Fusion Product Package is completely optional and is not required for an Associate to participate in the Talk Fusion Instant Pay Compensation Plan.