Talk Fusion To Wow Associates With New Marketing Solution
July 8, 2015
By Nicole Dunkley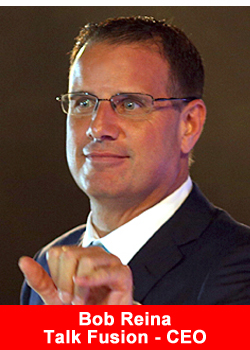 In a year already filled with overwhelmingly positive innovations to their product line and compensation plan, Talk Fusion continues to enhance their opportunity with an upcoming marketing solution that will perfect the recruitment process and make every Associate's business even easier to grow.
Talk Fusion is currently deep into the production of a brand-new, personalized marketing site, complete with an automated, high-energy Opportunity Presentation video that will be available on demand 24/7, 365 days a year.
As part of a global marketplace in over 140 countries, Talk Fusion Associates do business across multiple time zones, effectively blurring the lines of "normal business hours." With the new marketing site available around-the-clock, there will never be a risk of losing a Prospect's excitement due to a delay. The Associate can immediately send them to watch a captivating presentation video that will showcase Talk Fusion's world-class video communication products, outline their unmatched Instant Pay Compensation Plan, and shine a spotlight on the opportunity's unique and exciting timing.
"It's our calling, it's our cause to make sure people get the best out of life. We want each Associate to experience the highest level of success possible and we can help them do that with an Opportunity Presentation video that does the work for them," said Talk Fusion Founder & CEO Bob Reina. "It is literally the perfect presentation every time.
New Prospects are looking for an even deeper sense of urgency and excitement – they want to be part of the "next big thing." That's the energy the automated Opportunity Presentation video is produced to bring and the new personalized marketing site will capitalize on that excitement. Prospects will be able to join Talk Fusion immediately from the site via a fast, easy-to-use sign-up form.
The new presentation site is just the first part of a significant business and marketing initiative going on behind the doors of Talk Fusion. New announcements are imminent that will change the way Talk Fusion video communication products are shared and substantially increase an Associate's opportunity for financial success.
"Any successful Associate is always out there, always working. The same is true of the company they work with," said Bob Reina. "At Talk Fusion, we never sleep, we're always moving. If you want to stay ahead of the curve, you need to be in a constant cycle of innovating, creating, and perfecting. The market won't sit around and wait for you. You have to stay ahead of the pack."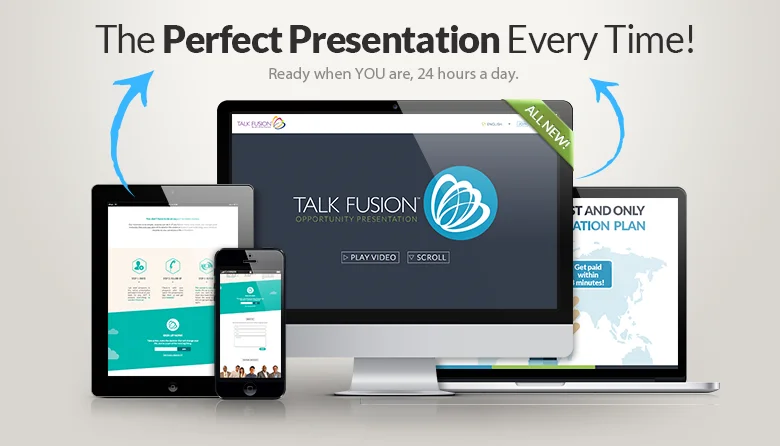 ABOUT TALK FUSION
A trend-setting industry leader, Talk Fusion has been connecting people around the world since 2007 through cutting-edge video technology for social and business communication. Talk Fusion's innovative video products are marketed person-to-person by independent Associates in more than 140 countries, empowering them to earn the financial freedom to live their dreams.
Founded in 2007 by CEO Bob Reina, Talk Fusion introduced the world's first Instant Pay Compensation Plan. Talk Fusion adheres to the highest ethical business practices and is a member of the prestigious Direct Selling Association (DSA). Reina firmly believes that "with great success comes greater responsibility."
Talk Fusion fosters a strong commitment to giving back to friends, family, communities, and animal charities across the world to produce a positive global change. Learn more at www.TalkFusion.com and "Like" Talk Fusion at www.facebook.com/TalkFusion.
Income Disclaimer:
Any earnings portrayed in any Talk Fusion marketing materials are not necessarily representative of the income, if any, that a Talk Fusion Associate can or will earn through his or her participation in the Talk Fusion Instant Pay Compensation Plan. All references to income, implied or stated, throughout the Talk Fusion Instant Pay Compensation Plan are for illustrative purposes only. These figures should not be considered as guarantees or projections of your actual earnings or profits. Talk Fusion does NOT guarantee any level of income or earnings to any Associate; any representation or guarantee of earnings would be misleading. The purchase of a Talk Fusion Product Package is completely optional and is not required for an Associate to participate in the Talk Fusion Instant Pay Compensation Plan.