Top Direct Selling Companies On Facebook – Talking About Ranks – July 2015
July 9, 2015
By Team Business For Home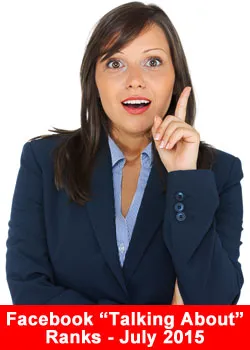 We have received many questions how we calculate the Direct Selling momentum ranks. As we do not want the many Copy Cats on the Internet to steal our setup, we do not disclose our algorithm.
What we will disclose with this article is a small part of our key indicators, the Facebook Talking About, you find that on the company Facebook page – under likes.
This is the actual number of people who are 'engaged' and interacting with that Facebook Page. The people who actually come back to the page *after* liking the page. This include activities such as comments, likes to a post, shares, etc by visitors to the page.
A company can Buy Facebook likes and some companies do….. however Talking About is hard to influence. Rule of thumb of Likes vs Talking About numbers for a Facebook Page:
With LESS than 100,000 likes, a great talking about number is about 8% of the likes. With MORE than 100,000 likes, a great talking about number is 4% of the likes. The June 2015 ranks are here
Below are the Facebook Talking About ranks as of 9 July 2015 for the Top 150, we have sorted the Talking About on absolute numbers, however you have to look to both numbers 🙂
| Rank | Name | Country | CEO Name | Talking about | Likes | Score |
| --- | --- | --- | --- | --- | --- | --- |
| 1 | Tyra Banks Cosmetics | United States | Tyra Banks | 65632 | 6407397 | 1,02% |
| 2 | Herbalife | United States | Michael O. Johnson | 64638 | 2520375 | 2,56% |
| 3 | Mary Kay | United States | David Holl | 43983 | 2245248 | 1,96% |
| 4 | Le-Vel | United States | Paul Gravette | 37122 | 342248 | 10,85% |
| 5 | DoTerra | United States | David Sterling | 29056 | 492619 | 5,90% |
| 6 | Alliance In Motion | Philippines | Ed Cabantog | 25610 | 187832 | 13,63% |
| 7 | Avon | United States | Sheri S. McCoy | 25025 | 13947288 | 0,18% |
| 8 | Nerium International | United States | Jeff Olson | 20262 | 232538 | 8,71% |
| 9 | Nu Skin Enterprises | United States | Truman Hunt | 18598 | 458276 | 4,06% |
| 10 | Scentsy | United States | Orville Thompson | 18146 | 886755 | 2,05% |
| 11 | Arbonne International | United States | Kay Napier | 17859 | 220360 | 8,10% |
| 12 | It Works! Global | United States | Mark Pentecost | 16965 | 438071 | 3,87% |
| 13 | Thirty One Gifts | United States | Cindy Monroe | 16824 | 718580 | 2,34% |
| 14 | Advocare | United States | Richard H. Wright | 16164 | 331767 | 4,87% |
| 15 | Young Living Essential Oils | United States | Gary Young | 13221 | 457447 | 2,89% |
| 16 | Younique | United States | Derek Maxfield | 10377 | 163145 | 6,36% |
| 17 | Jeunesse Global | United States | Wendy Lewis | 10238 | 243735 | 4,20% |
| 18 | Amway | United States | Steve Van Andel & Doug DeVos | 9953 | 392068 | 2,54% |
| 19 | Pampered Chef | United States | Doris Christopher | 8116 | 709388 | 1,14% |
| 20 | Jamberry Nails | United States | Adam Hepworth | 8103 | 295721 | 2,74% |
| 21 | Origami Owl | United States | Bella Weems | 8040 | 388376 | 2,07% |
| 22 | Ava Anderson | United States | Ava Anderson | 7351 | 85074 | 8,64% |
| 23 | Omnilife | Mexico | Jorge Vergara | 7089 | 126557 | 5,60% |
| 24 | Royale Business Club | Philippines | Julius Nolasco | 7024 | 648292 | 1,08% |
| 25 | WorldVentures | United States | Mike Azcue | 6532 | 158530 | 4,12% |
| 26 | Rodan and Fields | United States | Lori Bush | 6475 | 109498 | 5,91% |
| 27 | Norwex | Norway | Bjorn Nicolaisen | 5447 | 71307 | 7,64% |
| 28 | Organo Gold | Canada | Bernie Chua | 5216 | 207386 | 2,52% |
| 29 | USANA | United States | Dave Wentz | 5140 | 148867 | 3,45% |
| 30 | Melaleuca | United States | Frank VanderSloot | 5126 | 99384 | 5,16% |
| 31 | Forever Living Products | United States | Rex G. Maughan | 4969 | 330942 | 1,50% |
| 32 | Isagenix | United States | Jim Coover | 4502 | 204907 | 2,20% |
| 33 | Tupperware | United States | Rick Goings | 4415 | 222251 | 1,99% |
| 34 | Plexus Worldwide | United States | Tarl Robinson | 4372 | 143636 | 3,04% |
| 35 | Stella & Dot | United States | Jessica Herrin | 4354 | 417708 | 1,04% |
| 36 | Mannatech | United States | Robert A Sinnott | 4235 | 100794 | 4,20% |
| 37 | Cabi | United States | Kimberly Inskeep | 4196 | 83866 | 5,00% |
| 38 | Stampin\' Up! | United States | Shelli Gardner | 4182 | 336751 | 1,24% |
| 39 | Princess House | United States | Connie Tang | 3904 | 51067 | 7,64% |
| 40 | Fitteam Global | United States | Chris Hummel | 3882 | 36814 | 10,54% |
| 41 | Oriflame | Sweden | Magnus Brannstrom | 3730 | 6407822 | 0,06% |
| 42 | Fuxion | United States | Alvaro Zuniga Benavides | 3541 | 94578 | 3,74% |
| 43 | Perfectly Posh | United States | Ann Dalton | 3337 | 47724 | 6,99% |
| 44 | Youngevity | United States | Steve Wallach | 3331 | 40151 | 8,30% |
| 45 | Longaberger company | United States | John Rochon | 3288 | 69094 | 4,76% |
| 46 | QNet | Malaysia | JR Mayer | 3156 | 289084 | 1,09% |
| 47 | 5Linx | United States | Craig Jerabeck | 3076 | 80252 | 3,83% |
| 48 | BeautiControl | United States | Daisy Chin Lor | 2827 | 58890 | 4,80% |
| 49 | UP! ESSÊNCIA | Brazil | CLAREL LOPES | 2793 | 168900 | 1,65% |
| 50 | BeautyCounter | United States | Gregg Renfrew | 2750 | 27516 | 9,99% |
Showing 1 to 50 of 149 entries