Total Life Changes National Event "HOTLANTA" July 17-18th 2015
July 7, 2015
By Nicole Dunkley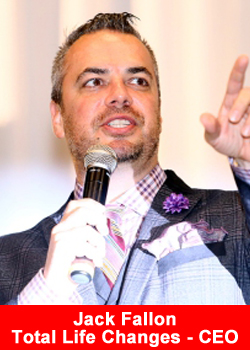 Total Life Changes momentum carries into this July 17-18th at Georgia's International Convention Center. TLC's National Event has been named appropriately; "HOTLANTA", as it embraces the company's growth in performance and popularity over the past 6 months and truly is setting the MLM industry on fire. Vice President of North America Sales expresses his excitement for this year's event:
"We're anticipating a sold out convention of 3,000 guests. We're well on our way to securing that number right now. Our leaders and our marketing team have transcended this message over the past five months. We've had to offer three different hotel packages in order to accommodate the number of guests that booked early to secure their seat at our largest event in corporate history. I mean, we sold almost five hundred tickets in February and we hadn't even secured a venue at that time. That's incredible. That's a true sign of growth and commitment to this momentum.
You know, we've had many challenges over the past five months as a result of this tremendous growth in the United States. And as I reflect on how this progress has challenged our IBO's in the field and our executives at the corporate level, it's an incredible thing. Because what we have been able to accomplish has never been done in the history of MLM. Okay?
I mean that. Listen, we could not meet customers and IBO's demand for the one product that is responsible for the most significant growth in the company's 16-year history and that is the Iaso™ Tea. And we survived that. As a matter of fact, we continued to move forward because we're not a company that offers only one hero product, but many products that can be considered instant gratification and we used that to our benefit.
So, I'm just feeling so blessed right now. I'm grateful for my wife's support and our decision to join Total Life Changes. I'm grateful for my position in this company and for the most recent recognition of third place in the Male MLM Networker of the Year Poll alongside 4th place Male MLM Networker and TLC President, Armand Puyolt..
All of this may seem overwhelming, but honestly, it's merely a result of the hard work that our team has put into laying a foundation for this success. It's a collaborative effort from so many people in our organization that provided this growth and consistent personal development. And our event in Atlanta this month is going to be a celebration of that success and a platform to showcase what we have planned to accomplish next."
Total Life Changes is led by one man's spirit and vision, CEO Jack Fallon. He has been able to define one overarching mission to customers and reps alike: helping others improve their health and sharing the products and their results with others. It's that simple. This mission is being accomplished everyday. Customers and independent business owners alike are sharing their results from the products and the income from the opportunity all over the world.
Total Life Changes reaches over 150 countries worldwide. The products are impacting the health of hundreds of thousands of people; many of which that live in impoverished countries and don't have access to resources for proper nutrition. That is why there is such a strong spirit within this organization; TLC is attracting men and women of every age and from many diverse nationalities with this same mission and enthusiasm. Jack Fallon discusses the recent buzz about Total Life Changes:
"We've had three of our IBO's recognized as the Top MLM Networkers of the year. Stormy Wellington shares the #1 Female MLM Networker of the Year and Kenny Lloyd and Armand Puyolt placed third and fourth for the Top Male MLM Networkers of the Year. And, one of our hottest products, Iaso™ Tea is in third place for the #1 Direct Selling Product of the Year. So we are extremely proud and excited. Our guests are ready to take over the city of Atlanta this month as deliver one heck of a show. I'm just so very proud of the consistent message that has been delivered over and over and that is why we are here to stay. Total Life Changes is just now starting to get some attention, but the fact is, we've been around a long time. The biggest difference is the recognition we are now receiving in social media, third party journals and magazines and within the MLM networks because of the recent surge of growth in the United States. I'm very fortunate and feel very blessed to be a part of this amazing group of people we have right here in Total Life Changes."
Total Life Changes offers an amazing line of health and beauty products along with a great business opportunity. TLC was created by CEO Jack Fallon over 15 years ago with a single product, Nutraburst, and has grown to include our Iaso™ brand of products like our popular Iaso™ Tea. Our hybrid binary system allows IBO's of TLC to quickly be compensated for introducing new reps to our products and business opportunity. The opportunity for you to feel healthier and flourish financially is what TLC is all about!
Join us in Atlanta this July to see it for yourself.