Zija Launches Améo Essential Oil Cooking Kit
July 3, 2015
By Nicole Dunkley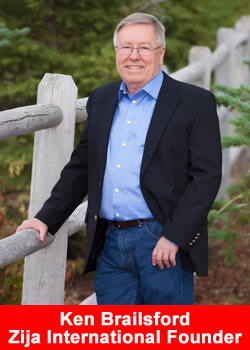 Zija International's product division, Améo Essential Oils, recently revealed their Cooking with Améo Kit, complete with nine essential oils, an exclusive cookbook, spray bottles, and pipettes. The new essential oil line encourages incorporating their essential oils into everyday activities—all while promoting a healthier lifestyle.
The Cooking with Améo Cookbook was written by healthy living expert, Karen Jensen, who has decades of experience with essential oils. She was recently named one of the Zija Product Advisory Council members and is a Master Herbalist, Certified Midwife, Certified Natural Health Professional, and has a bachelor's and master's degree in marriage and family research. With her extensive experience she has accumulated favorite essential oil recipes from Sweet Basil and Lemon Ravioli to Tangerine Sugar Cookies.
The kit was designed to help both novice and expert essential oil users augment their culinary efforts while providing enjoyment and added health benefits to the experience.
Améo Essential Oils has put a strong emphasis on high quality products and scientific findings, such as studying how the oils work at a cellular level. The company is continually creating new products to help promote improved health and well-being through the use of Améo Essential Oils.
About Zija International
Zija International, a privately held and privately funded business founded by Kenneth E. Brailsford and run by Rodney Larsen, develops natural health, wellness, nutrition and fitness products. The company operates in more than 50 countries worldwide.
Zija has seen consistent growth every year since it was founded over 9 years ago and was recently named the "Fastest-Growing Company in Utah" by Utah Business Magazine. It has also been recognized on fastest-growing and top-revenue lists by Inc. Magazine, Direct Selling News, and Utah Valley Magazine, to name a few.
With corporate offices located in Lehi and more than 4 million sq. ft. of state-of-the-art warehouse, shipping and manufacturing facilities located in Utah, United States, Zija International employs more than 200 individuals and has the capacity to grow to more than two billion dollars in annual sales.