Amway's Made In America Is In High Demand In China
August 18, 2015
By Tina Williams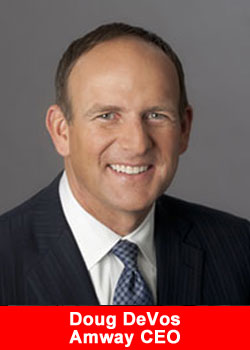 Wall Street Journal reports: Amway Corp. is betting that a "Made in the U.S.A." label will hold its appeal with consumers in Asia.
The direct seller is spending $200 million on four new factories and a new research lab in the U.S., including a new plant in its home state that will make soft-gel casings for dietary supplements and other pill products.
The investment comes even as the company sees some of its fastest growth in emerging markets far from its headquarters in Ada, Mich. Manufacturing in the U.S. for buyers in Asia adds costs to Amway's supply chain and up to three weeks to the time it takes to bring a product to market. That can make it difficult to respond to fast-changing consumer tastes.
But the company hopes those disadvantages will be outweighed by the allure of American-made goods, which can command a premium of up to 25% in China, Amway's biggest market, said George Calvert, the company's chief supply chain officer. Many Chinese consumers view U.S. imports as higher-quality and safer after a series of health scares involving domestic products.
"In a lot of these markets, there are food quality and food safety issues [so] 'Made in the USA' is worth a real premium," Mr. Calvert said.
Amway is the largest vitamin and dietary supplement vendor in China, with 11% of a market that generates 100 billion yuan ($15.6 billion) in annual sales, according to Euromonitor International.
Amway faces growing competition from other American brands, including GNC Holdings Inc. Euromonitor said sales of vitamins and nutritional products in Asia grew 42% between 2009 and 2014, and are expected to grow another 19% in the next five years to $45.9 billion.
There are other benefits to manufacturing in the U.S., Mr. Calvert said. Amway grows a number of its ingredients at home and can save on the extra time and cost of transporting them to other countries for processing. The company produces some products in Southeast Asia, including water treatment systems.
Still, if consumer preference weren't an issue, manufacturing in China would make the most sense, especially in terms of the time it takes to react to extreme fluctuations in demand, Mr. Calvert said. Demand spikes are routine in Asia, where disease outbreaks and food recalls often send consumers flocking to Amway products.
"When bird flu kicks in in Asia, you can't possibly think that what you produce on an annual basis … is going to enough," he said. "We might see a spike of five times the normal forecast."
Amway intentionally grows larger crops of key ingredients like Echinacea or Vitamin C-rich acerola cherries in case demand suddenly jumps. Earlier this summer, products that use these additives were in high demand in South Korea, where an outbreak of Middle East Respiratory Syndrome drove sales of supplements that claimed to boost immunity.
The company keeps "more raw materials just to be sure that, with those high variability products, we're not going to get caught short," Mr. Calvert said. "You have to be able to flex up and down your supply chain."