Avon Looks To IT To Help Continue Improvement
August 6, 2015
By Tina Williams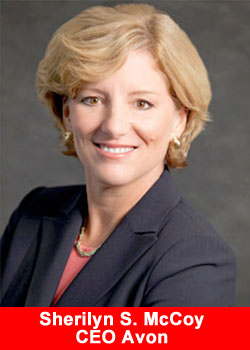 The Wall Street Journal reports: Cosmetics giant Avon Products Inc. continues to attempt a turnaround amid falling sales and difficulty retaining its signature door-to-door representatives. Behind the scenes, Avon's IT department is working to modernize the company's IT architecture to usher the business into the digital age, says CIO Sue Liddie.
Today, Avon is embracing smaller regional implementations over global rollouts.
"We need to architect solutions fit for purpose, sensitive to and agile enough to respond to each of those groups," Ms. Liddie said during an interview in June. Avon's IT infrastructure should be built so individual markets can tweak technology when needed without disrupting the entire stack, she added.
Ms. Liddie says she hopes a more loosely coupled architecture will give Avon the agility to adapt quickly to individual market demands and expand online and mobile opportunities for its representatives, known for going door-to-door selling beauty products.
She's says she's learning from Avon's history. That includes a global software implementation that drove away representatives away and dented revenues. Avon spent $125 million and at least two years preparing to deploy a new order management system based on software from SAP SE, part of a service model transformation program meant to simplify how Avon representatives interacted with the company. While Avon said the system appeared to function properly during tests in Canada, the implementation ultimately reduced the number of active representatives and resulted in a severe revenue decline, Ms. Liddie said. Avon said it would halt the rollout in 2013 "in light of the potential risk of further disruption," the WSJ reported.
"It was clear that SMT came with a sizable price tag, but without a clear return on investment," Ms. Liddie said in an email sent through a spokeswoman last week. "All things considered, ending the project was the right thing to do for Avon." Issues linked to the implementation have been resolved in Canada, she said.
Ms. Liddie refers to Avon's new IT architecture as three layers. The top layer, user interface, encompasses front-end components such as websites and mobile apps. The bottom layer is core enterprise resource planning systems, which Avon plans to buy out of the box and standardize across regions.
The key, proprietary middle layer is a rules engine that controls core elements of Avon's business, from pricing and promotions to the "Find a Representative" feature that connects shoppers with sales reps. Built on Microsoft's .NET framework, those services plug into the user interface and core ERP systems and can be deployed across markets.
Before, the user interface and ERP layers were dependent upon one another, which made upgrades and customizations difficult. Separating the rules engine into its own separate layer gives Avon the flexibility to mix and match technologies without disrupting the entire stack, Ms. Liddie said. In the past, a user interface layer may have been tied to a legacy order management system. By separating the proprietary business rules into its own layer, Avon now is able to swap out the older technology for a more modern ERP in days rather than months.
That flexibility lets Avon target each market individually and prioritize technology implementations based on what each one needs most. In the U.K., for example, the company is focused on plugging in a more modern ERP environment. In Brazil, however, the front-end user interface gets top billing, driven by the need to support representatives in a more segmented fashion. The company will deploy to no more than two markets at a time to get a better handle on change management, Ms. Liddie said.
That said, each market won't have complete control over the technology it uses. Avon is deploying a common platform within each of its four major regions – Asia-Pacific, Latin America, North America and EMEA. Leaders in each of those regions are able to choose between two user interface platforms and two ERP platforms, which will be deployed throughout the entire region. All regions will share the business rules engine, but tweaks can be made on a market-by-market basis.
Avon continues to work with big software incumbents SAP and Oracle Corp. for some technology, Ms. Liddie said in June. It's also turning to cloud solutions, deploying Microsoft Corp.'s Office 365 and SAP's Ariba cloud procurement software in some regions.
On the mobile side, Avon has released a mobile app across 28 markets to help representatives operate in an untethered fashion. As of June, the app had been downloaded 1.4 million times since its launch. The company is also trying to improve the representative on-boarding and sales process. Reps can now sell products through online stores, which theoretically could extend their reach beyond their assigned geographic