Christian Science Monitor On New Face Of Direct Selling
August 31, 2015
By Team Business For Home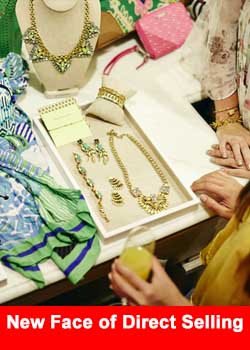 Christian Science Monitor features a story on the new face of direct selling with companies like Stella & Dot, Jamberry, and Scentsy that are drawing in women, squeezed more than ever by competing work and family pressures. Their appeal lies in the promise of flexible income streams, creative fulfillment, and less rigid boundaries between work and leisure.
"Welcome to my first official ONLINE Jamberry Nails Party!" the message read. My friend Sarah had joined up with Jamberry (think Avon for durable press-on manicures), and she was kicking things off with a Facebook shindig, inviting about 30 of her friends to browse Jamberry's vast inventory of nail decals and adorn their fingertips with chevron patterns, rainbow polka dots, or the logo for their favorite college football team. In return, she gets a discount on products she buys for herself and, if she sells enough, a small commission.
To keep us engaged, there were games, occasional freebies, and "points" toward a grand prize – a portable nail dryer – for completing tasks like buying set of press-on nails, and inviting friends to the party. Virtual attendees who racked up the most points would be eligible for a "Grand Prize" at the end of the week. At one point, Sarah had partygoers offer up trivia about themselves, like a favorite hobby or a dream vacation, then recommended a set of nail wraps to match.
Taking a page from Tupperware and Mary Kay and freshening it for a Facebook age, an army of direct sellers now caters to practically every want and whim – you might be friends or acquaintances with a few of them. Foodies can sell their friends on Tastefully Simple's Pomegranate Chipotle sauce and Gluten-Free Fudgy Brownie mix, or cookware from The Pampered Chef. Aromatherapy nuts can sign up with Scentsy and NuWorld Botanicals.
Skincare startup Willa recruits girls as young as 13 (dubbed "Willagirls") to sell teen-targeted beauty products to their friends. Companies like these accounted for $34.5 billion in retail sales in 2014 – a 5.5 percent increase from the year before, according to the Direct Sellers' Association (DSA), an industry trade group. Jamberry says consultants like Sarah pull in a combined $10 million annually.
Seventy-five percent of direct sellers are women, and their involvement stems from a desire for more flexible income streams, creative fulfillment, and blurring boundaries between work and leisure. At the same time, social media has made it easy to display their wares to hundreds of potential clients with the click of a button – to the delight of some in their
Work from home
This bumper crop of new direct sales companies comes as many Americans are being squeezed anew by work and family pressures. The rise in childcare costs may be one reason. After climbing steadily for decades, women's participation in the workforce has ticked down six years in a row, to about 57 percent in 2013, according to the Labor Department. (Men have a 70 percent participation rate). Twenty-nine percent of mothers with children younger than 18 didn't work outside the home at all in 2012, up from a low of 23 percent in 1999, according to a study from the Pew Research Center.
But many would like to keep working – sometimes as a hobby, sometimes out of necessity.
"There's lack of flexibility in a traditional 9 to 5, says Jessica Herrin, a former tech executive who co-founded Stella & Dot, a San Francisco-based jewelry seller, shortly after giving birth to her first child. "We want to be a choice for people embracing a more flexible work policy." That companies like Stella & Dot and Jamberry operate primarily through social media, she says, allow sellers to "conduct business while they sit on their couch or wait in line at the grocery store." One of her early inspirations, she says, was her sister, a police officer who wanted to stay at home with her newborn "but needed about $1,000 a month to make it happen."
Sarah works long days as a middle school Latin teacher in Queens, N.Y., and she's hoping that the income from selling nail wraps can replace the money she was making from taking on extra hours at her school. According to Ms. Herrin, 80 percent of Stella & Dot's stylists have other jobs. Some are teachers and students who only sell during the summer months; others work during the holidays so they earn extra money for Christmas gifts.
Financial instability, too, can prompt people to seek out more diverse income streams, says Erynn de Casanova, a sociologist who sees emerging parallels between the rise in direct sellers in the United States and the direct selling she has studied in impoverished communities in Ecuador. "What you have in Latin America is high levels of inequality, with lots of people at the bottom, she says. "We're moving there in the US. In both settings there's a move toward more precarious and unstable employment, and also refugees from the professional world not able to balance unpaid domestic obligations with the demands of a regular job."
Work, or play, or both
Direct sales have provided an income stream for American women ever since David H. McConnell founded Avon in 1886. In the aftermath of World War II, Tupperware parties became a popular compromise between the jobs many had grown accustomed to while American men were fighting overseas and their re-entrenched domestic obligations as wives and mothers. "It was an on-ramp for women into the workplace," says Ms. Herrin.
Amanda McLeod became a Stella & Dot sales associate – stylist – in 2013, after attending a merchandise show and falling in love with "basically all of the jewelry," she laughs. Along with the deeply discounted pendant necklaces and cuff bracelets, the possibility of a more tangibly gratifying side occupation drew her in.
"When I first got into it, I wasn't super satisfied with my job," says Mrs. McLeod, who now coordinates care and activities for seriously ill children at a hospital in Gainesville, Fla. As a stylist, she could work toward monthly and seasonal goals to earn extra discounts and prizes, along with sales commissions. "I'm very goal-oriented, and I didn't have that at my job at the time," she says. "And I got to wear pretty jewelry, let's be honest."
"Lots of people need an incremental income, but for them it's giving them energy because it's also a leisure activity," Herrin says. "We have neurosurgeons, correctional officers, and they want a creative outlet beyond their regular job." That blurring of the boundaries between work and play, she says, has been a big factor in the success of the newest wave of direct sellers.
Concerns
But it also makes the viability of working for a Stella & Dot or a Jamberry as an actual career, or even a side income, murky. Direct sellers make about $2,400 per year on average, according to the DSA, but they run the gamut from company-touted top sellers (Stella & Dot claims at least one stylist who manages a team and makes over $1 million per year) to people who are in it mainly as a shopping outlet. Additionally, most of these companies still offer incentives for recruiting more sellers, giving them the whiff of a pyramid scheme to the already-skeptical.
Then there's the more obvious obstacle: reaching enough interested clients without annoying your friends. Facebook makes it easy for sellers to cast a wide net, but many users have already grown weary of the endless march of invitations to online showcases, in-person sales parties, and prompts to "like" a stylist's page. Screeds against online direct selling are quickly becoming their own literary genre. Many sellers have responded by trying to limit their pitches to contacts who they know would be interested, or have bought from them in the past, or setting up online groups so friends can join if they want and ignore it if they don't.
McLeod says she largely lost interest in selling after her job situation improved, but "stuck around for anther year just for the 50 percent discount," she says. By the end of it she was "definitely in the red" financially, but because her priorities had shifted. "I actually made quite a bit of money, and if I had tried every single month just as hard as I did at first, it would have worked," she says. "But I probably spent a few thousand more on jewelry than I made."
The Jamberry party, meanwhile, lasted a week, and Sarah's enthusiasm didn't wane. Her best sales pitch involved applying a manicure at the beginning of the week, then giving us photo updates each day to show how well it was holding up. She was successful: At least half of the attendees bought something, including me. I'd love for Sarah to get to ditch just a few of her crazy work hours, and I've been meaning to stop neglecting my fingernails anyway.
Originally published here.