CVSL Rings Closing Bell At The New York Stock Exchange
August 29, 2015
By Nicole Dunkley
CVSL made company history Wednesday at the New York Stock Exchange, where executives and salespeople participated in the ceremonial ringing of the bell to signal the end of trading.
The Dallas-based direct selling conglomerate has built a portfolio of eight independent businesses—including The Longaberger Co., Tomboy Tools, Agel Enterprises, Paperly, and others—which benefit from combined back office expertise as well as centralized business operations and services. Shares in CVSL previously traded over the counter on the OTCQX, but the company uplisted to the NYSE MKT in December 2014.
"We're proud to be listed on the NYSE and we want everyone who is part of every CVSL company, including our independent sales force, our employees and our shareholders, to feel part of this special moment," CVSL Vice Chairman and CFO, John Rochon Jr., said in a statement.
Colleen Walters, Founder and CEO of CVSL-owned Your Inspiration at Home, an award-winning maker of gourmet spice blends, did the honor of ringing the bell at the close of trading. Top-performing salespeople from other CVSL brands qualified for a trip to New York City and joined Walters at the famed podium.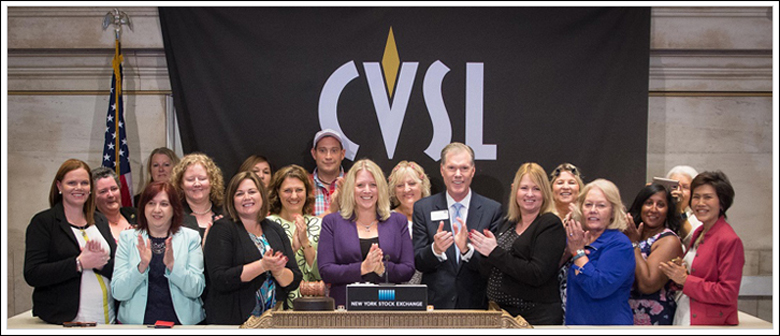 About CVSL Inc. (NYSE MKT: CVSL)
CVSL is a growing federation of direct-to-consumer companies. Within CVSL, each company retains its own separate brand identity, sales force and compensation plan. CVSL companies currently include The Longaberger Company, a 42-year old maker of hand-crafted baskets and other home decor items; Your Inspiration At Home, an award-winning maker of hand-crafted spices and other gourmet food items from around the world; Tomboy Tools, a direct seller of tools designed for women as well as home security systems; Agel Enterprises, a global seller of nutritional products in gel form as well as a skin care line, operating in 40 countries; Paperly, which offers a line of custom stationery and other personalized products; My Secret Kitchen, a U.K.-based seller of gourmet food products; Uppercase Living, which offers an extensive line of customizable vinyl expressions for display on walls in the home; and Kleeneze, a UK-based seller of cleaning, health, beauty, home, outdoor and a variety of other products. CVSL also includes Happenings, a lifestyle publication and marketing company.