Dr. Edwards & Dr. Helen Dela' Houssaye-Clay Reach National Rank In Record Time With Total Life Changes
August 20, 2015
By Nicole Dunkley
Dr. Helen Dela' Houssaye-Clay earned over one million dollars in her early thirties with a health and wellness company as a professional distributor. She was the second top money earner with a global team of over 500,000 distributors and helped thirty-three families become millionaires.
To the outside world, it looked as if she had it all together; a beautiful marriage, eight fantastic children, a dream home, four luxury cars and known as a successful network marketing mogul in her previous company of seven years. But behind closed doors, her world was crumbling.
In 2014, her youngest toddler was suffering with heart disease and her new granddaughter named Miracle was born with a rare form of dwarfism, heart and lung disease and in need of a liver transplant. Her grandmother's health was also failing, she was in and out of the ICU, and all while Helen was enduring a high-risk pregnancy of her own.
"My husband and I were trying to decide whether we should pay our utilities or pay all the non-stop medical expenses that was literally keeping someone in our family alive. Medical expenses maxed out every credit card and drained every resource in savings. We faced denial at every turn; my husband and I were broke and broken. As a couple we were trying to hold on to any shred of strength to hold our family and ourselves together. And then I received a call from a friend and former business partner, Mr. Kenny E. Lloyd. He introduced us to Total Life Changes. He became our lifeline.
"I just needed to put faith in action. I needed to believe once more. I needed to say yes one more time. After being told about Total Life Changes, I knew this was the chance I needed to take. I was scared with thoughts of; would I be able to build again? Would leaders follow me if they knew I was broke and broken? Could I build the success of my past? Could I really be the leader I was called to be, one more time? Mr. Kenny Lloyd and his wife Chante said, "Edward and Helen, We Got You."
Kenny called Helen's hospital room everyday after she delivered her newest baby in April 2015, and said, "Don't you forget, I Got You". Helen's husband was reluctant in their previous opportunity; he was not honored, appreciated, valued or respected. Again, Mr. Kenny Lloyd said "Edward, I Got You." He ushered them back into their destiny.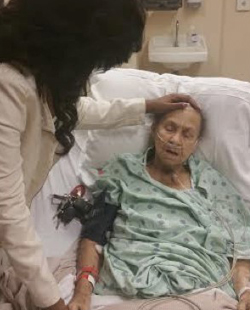 In 2015, Dr. Helen & Dr. Edward began their new career with Total Life Changes, where they reached the rank of National Director in 30 days. Their vision is to help 5,000 families to become debt-free by the end of 2015.
Helen's grandmother, Mrs. Helen McBee, was her true source of faith (while in intensive care). Her voice in a faint whisper constantly spoke faith. In spite of her fight to survive, her wisdom, faith and resilience was louder than the voice of defeat that was screaming at Helen to quit, give up, and disappear. Her grandmother said, "When you don't have faith Helen, you must humble yourself to borrow it! Do whatever it takes to be strong, fight. You don't have permission to give up, for when I transition, my light goes through you and that is the beauty of transitioning."
"In a dream one night, it was revealed that I had to be knocked all the way down and forced on my back so that all I could do was look up. I needed to learn a valuable lesson; it's only through faith, mercy and grace that God can use man to pick you back up. Once you get up, you can stand. Once you stand, you can run. Once you can run, you can soar like the eagle you're created to be," expressed Dr. Helen.
Dr. Helen has served as a Senior Executive and aided in the growth and development for numerous Fortune 500 companies. She is the CEO and success strategist of Marksetters International; a global motivational, personal, and business training center. She is also CEO for a non-profit organization called "Matters of the Heart," focused on restoring men and women with post-traumatic stress disorder, transitioning from prison life to society, and unwed teenage mothers. Dr. Helen has written several books: Gifts Wrapped in Sandpaper, How to Play & Win in the Game of MLM and her new book which will be released in 2016, which is her first solo project; Do you Believe? Steps to Overcoming Your Fears & the Power of Forgiveness. Dr. Helen resides in Missouri City, Texas with her loving husband and business partner, their eight beautiful children and one granddaughter.
About Total Life Changes
Total Life Changes offers an amazing line of health and beauty products along with a great business opportunity. TLC was founded by CEO Jack Fallon over 15 years ago with a single product, Nutraburst, and has grown to include our Iaso™ brand of products like our popular Iaso™ Tea. Our hybrid binary system allows IBO's of TLC to quickly be compensated for introducing new reps to our products and business opportunity. The opportunity for you to feel healthier and flourish financially is what TLC is all about!