DubLi To File Law Suit Against Matt Trainer
August 6, 2015
By Team Business For Home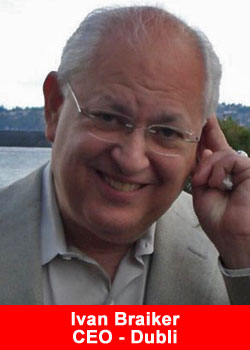 Business For Home has received the following statement from Dubli Corporate:
Official DubLi Statement Regarding Matt Trainer Video:
As a company, DubLi will respond in the best interest of its shareholders, Business Associates, customers and employees to protect and preserve its reputation against unmitigated attacks. Fictitious stories concerning DubLi's business model or its management team will be challenged.
As such, DubLi will be filing suit against Matt Trainer in response to his fabrications put forward in a video last week.
In keeping with its status as a public company under U.S. Securities and Exchange Commission guidelines, DubLi has a strict corporate policy against commenting on or forecasting conversion rates or any other financial benchmark.
The company has never, not to Mr. Trainer or anyone else, made any statements as to expected conversion rates. Nor has the company mentioned how DubLi may or may not convert in Mr. Trainer's personal marketing system that he has attempted to sell to other DubLi Network Business Associates.
As for statements regarding DubLi-owned property in the Cayman Islands, we encourage anyone to review our filings with the US Securities & Exchange Commission for more details on our property there. The ownership of this property has been described for several years throughout our public filings.Furthermore, it has been a widely known fact that the leadership of DubLi Networks owns stock in the company.
DubLi's Cashback amounts are available for public viewing on our website: www.dubli.com. The Cashback amounts DubLi gives to customers are fully transparent.
DubLi has an experienced team of managers. As a company policy, it does not employ the services of independent distributors to run or manage the DubLi business.
The company appreciates the guidance and insight of its independent business associates but it does not make company decisions based on these individual opinions.
About DubLi, Inc.
DubLi provides Cashback rewards and value-based travel, shopping and entertainment portals to online customers all over the world through DubLi.com. DubLi is a consumer-focused company, where the customers' needs always come first. At DubLi.com, we believe consumers shop at the same stores they shop normally, find the best deals and then earn Cashback with each purchase. DubLi features thousands of brand name stores, industry-leading travel companies from around the world along with insurance, financial services and telecommunications.
DubLi, Inc. also offers entrepreneurs the opportunity to create their own distributor organizations by joining DubLi Network (Dublinetwork.com). The global network of Business Associates who form DubLi Network, the sales and marketing engine for DubLi.com, generates traffic to DubLi.com by using direct selling to market a variety of memberships and packages. DubLi Partner (Dublipartner.com) offers a co-branded version of its DubLi.com platform that gives participating organizations a professional and reliable web presence while providing access to DubLi's global online Cashback travel, shopping and entertainment site.
DubLi is emerging as a leading provider of innovative travel, shopping, and entertainment solutions to consumers in more than 120 countries. DubLi, Inc. was founded in 2003 and is headquartered in Fort Lauderdale, Florida.