ForeverGreen Reports 14% Increase In Q2 2015 Revenues To $16.1 Million
August 15, 2015
By Nicole Dunkley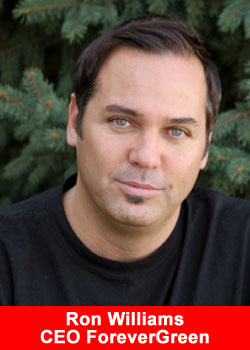 ForeverGreen Worldwide Corporation, a leading direct marketing company and provider of health-centered products, recently announced financial results for the second quarter ended June 30, 2015.
During July we pre-launched our Ketopia product system in two countries and expect this to be a top selling product. We will officially launch this product in January. Management intends to continue to improve its marketing plan to drive overall profitability. Management will continue to scrutinize expenses related to operating activities and order fulfillment to determine appropriate actions to take to reduce these costs as a percentage of sales. We continue to look forward to our bright future, stated Ron Williams, CEO.
Second Quarter Financial Highlights
Total revenues increased 13.8% to

$16,079,017

, compared to

$14,127,840

in the second quarter last year. The company has deferred revenue of

$353,073

versus

$162,542

in the comparable quarter of 2014.
Gross Profit for the quarter increased to

$12,039,474

compared to

$11,233,332

and Gross Profit Margins decreased slightly to 74.9%.
Operating loss was

$1,173,114

compared to an operating gain of

$412,360

during the quarter in 2014.
Net loss for the quarter was

$1,446,797

or .06 versus a net gain of

$454,856

or .02 during Q2 2014.
Net cash used in operating activities was

$1,843,145

for the quarter compared to

$1,061,838

in net cash used during Q2 2014.
Total assets increased to

$9,865,600

at

June 30, 2015

compared to

$7,709,633

at

December 31, 2014

. Total liabilities for the end of the second quarter of 2015 were

$9,601,815

compared to

$8,086,341

at year end 2014.
The company currently has no long term debt. As of

June 30, 2015

, the Company has

$2.39 million

in debt with a due date of

December 31, 2015

. Management anticipates it will satisfy these notes payable through increased revenues or negotiation of new payment due dates.

Sales and marketing expenses were 49.1% of revenue compared to 52.6% for 2014 Q2.
Second Quarter Highlights
During the second quarter of 2015, the company experienced exciting updates and international expansion that included:
Received anti-doping certification from BSCG for PowerStrips. Being certified free of banned substances and also drug free is a very important step. This will increase our target market as it opens up the world of athletes.

Honored as Best of State for Product Distribution.

Decreased sales and marketing costs as a percentage of sales.

Established local and regional shipping in

Israel

,

Turkey

, UAE,

Jordan

,

Saudi Arabia

and

Kuwait

.
Expanded and enhanced operations in

Europe

by fulfilling orders from the European warehouse, improving delivery times and lowering delivery costs.
Established and developed Brazilian market. The first official corporate event occurred

August 9, 2015

where two new products were announced exclusively for that market.
Began marketing new product, Ketopia, which was officially pre-launched on

July 10, 2015

.
Highlights for six months, ending June 30, 2015, included:
Sales increased to

$33,277,957

versus

$24,664,242

, a 34.9% increase.
Gross profit rose to

$25,045,213

from

$19,210,729

, a 30.4% increase.

Gross profit margins decreased to 75.2% compared to 77.9% for 1H 2014.

Interest expense decreased to

$139,216

compared to

$145,258

during the first six months of 2014.
Total tangible assets increased by

$2,203,452

to

$9,720,682

on

June 30, 2015

.
Total liabilities increased by

$1,515,474

to

$9,601,815

on

June 30, 2015

.
Cash, cash equivalents and restricted cash increased to

$1,938,456

from

$1,169,971

on

December 31, 2014

.
The company overcame some significant challenges for the quarter, mentioned C.F.O. Jack Eldridge. During the quarter, the company had to deal with an abnormal amount of fraudulent order activity. The company spent a significant amount of time and resources improving its fraud detection capabilities. While working through this project, the merchant processors increased their reserve amount required by ForeverGreen, while also delaying some of the settlement deposits. In July, this fraudulent activity has been drastically reduced and is not expected to have a material impact on the company's future expenses. We expect our profitability and gross profit margins to increase by several percentage points as a result of this fix. Management also rebranded, repackaged and relaunched our entire product line in May. This resulted in some one-time costs, but also a much more powerful and well received brand. The company continued to invest in fixed assets and inventory for the future. The third and fourth quarters should see substantial growth in revenues and profit margins due to these changes and investments for the future.
About ForeverGreen Worldwide
ForeverGreen Worldwide Corporation develops, manufactures and distributes an expansive line of all natural whole foods and products to North America, Australia, Europe, Asia, Africa and South America, including their new global offerings, PowerStrips, SolarStrips and BeautyStrips. They also offer their new North America weight management line Ketopia, along with Azul and FrequenSea, whole-food beverages with industry exclusive marine phytoplankton, a line of hemp-based whole-food products, immune support and weight management products, Pulse-8 powdered L-arginine formula, 24Karat Chocolate.