Four Oceans Launches Explorer Travel Portal
August 25, 2015
By Nicole Dunkley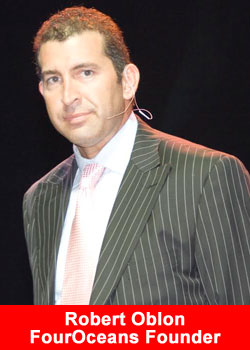 Founded by industry veteran Robert Oblon who has spent the last 20 years marketing travel, Four Oceans looks to add yet another powerful tool into its already impressive arsenal. These tools include a free online course by well known thought leader Shawn Achor from the field of Positive Psychology and Happiness, over 300 self-improvement videos (formally called TSTN) in an online video library, as well as access to Vacationars™, (known as seminars on vacation) where the company's educators and trainers provide seminars at 4 and 5 star resorts around the world.
"With the addition of the Explorer travel portal, we can now give our members and customers the ability to access more vacation opportunities at lesser fares than they can find elsewhere online," said Oblon. "This fits into our strategy of helping people elevate their life by giving them an even greater opportunity to benefit from the psychological and even physical benefits we now know one gets by going on more vacations." After co-creating WorldVentures, one of the world's largest direct selling companies in travel, Oblon helped numerous companies with marketing, video production, web-development and technologies before deciding to launch Four Oceans as a hybrid company that is destined to help the entire direct sales industry.
"This travel product is unlike anything I have ever seen, with over 361 APIs and XMLs and for every type of travel, it's much more of a travel technology than it is a search engine," said Brad Bennett, 18 year travel industry expert and Four Oceans VP of Travel Operations. "While most every online travel search engine searches the same global distribution systems, Explorer searches a massive amount of content not available in those other systems," added Bennett. "On top of that, thousands of exclusively negotiated deals are offered at wholesale prices that are simply not available anywhere else, online or off."
Studies now show that going on vacation is good for you and an important part of elevating your sense of wellbeing, also known as "happiness". "After years of studying the effects of traveling and vacationing, we believe that Four Oceans is a phenomenal way for people to both learn the skills they need to understand how to be happier, as well as reap the benefits the company offers in the form of their Vacationars™ and vacation offers," said Jordan Brock, VP of Business Development for GoodThink Inc., the company behind Shawn Achor and the book "The Happiness Advantage".
Four Oceans has teams around the world, and with more countries opening every month. The mission of helping people learn the skills they need to succeed and elevate to higher levels of happiness and success is well under way. The Four Oceans Explorer is part of a powerful Rewards Program whereby by Partners of the company (distributors) are rewarded when they refer other people who become members of the program, which in turn can help Partners go on more vacations.
ABOUT EXPLORER
The Four Oceans Explorer is a travel portal that requires a membership to access pricing for every type of travel and vacation genre at below published or retail fares. Pricing available is considered wholesale, double or triple net, unpublished and exclusively negotiated.
Eight years in the making, Explorer's technology and massive amount of API and XML feeds a part of the strategic partnership created by the two companies and their owners. Explorer's marketing, branding and customer acquisition methodology is the brand child of the Four Ocean's Founder, but the intricate and overwhelming powerful travel solution has been in R&D for years.
Together, the two powerful companies seek to bring a different type of travel experience, complete with full service concierges. Each Explorer member not only gets access to deals and prices not available anywhere else, they can speak with a seasoned travel professional who can book any type of vacation, excursion, cruise or experience without a mark up or booking fee. This effectively passes the full wholesale price point to the end user consumer creating a value proposition not seen with any other online or offline travel service.
Four Oceans Explorer is the World's Greatest Travel Portal and only available through a qualified Four Oceans business Partner and is not open to the general public otherwise.
About Four Oceans
Four Oceans is a lifestyle brand that is disrupting the idea that hard work and sacrifice precedes happiness and success. The social selling company, based in Plano Texas, is at the forefront of the happiness movement. Starting with the '21 Day of Happiness Course,' Four Oceans learning and self-improvement programs are helping people around the world elevate their lives personally and professionally.
Four Oceans offers individuals two ways to get involved with the company. The first way is to sign up to be a Four Oceans customer and take advantage of "Happiness" self-improvement and life skills curriculum and experiential programs. Alternatively, people can become a Four Oceans Partner, joining people worldwide currently enjoying the satisfaction and reward of owning their own business rewarding them for selling products and helping others. Partners earn income and other cash and business incentives based on personal and group performance.