Hai-O MLM Records $35 Million Revenues In Q4
August 8, 2015
By Team Business For Home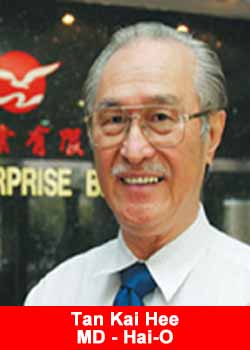 In an environment where the ringgit has depreciated by some 19% over the past one year, wellness and multi-level marketing (MLM) company Hai-O Enterprise Bhd is beginning to be attractive due to its defensive qualities.
With its current dividend yield of around 6%, Hai-O packs a good dividend return for investors. Hai-O has one of the highest dividend yields in Bursa Malaysia, and has a policy of paying out at least 50% of its net profits as dividends.
Managing director Tan Kai Hee says the company has paid out RM 235 million (approx $60 million) in dividends since 1997, an average of 55% yearly. Over the last five years, the dividend payout was on the rise, and had grown by some 11.38% per annum.
Meanwhile its share price has traded within a PE band of 10 to 15 times over that period. Earnings wise, Hai-O has been consistently recording a profit since its listing. Over the past five years, it has been recording net margins in its teens.
This is likely because a big chunk of its business is attributed to the MLM segment, where margins tend to be higher. For its financial year ended April 30, 2015, some 56% of its revenue was contributed by the MLM segment.
"Our products are cultured products which have hundreds of years of history. Most of our Chinese products are sold to wholesalers, and this segment is mainly for the Chinese market," says Tan, who is also the major shareholder with a 27% (this includes holdings by family members) stake.
Hai-O's edge in the wholesale business is that it has the exclusive distribution rights for over 50 renowned brands of Chinese medicine, health tonic, tea and healthcare products.
Tan says its products are of premium quality and have culture and history infused into it.
This is an intangible premium which cannot simply be replicated by other companies. This also makes the Chinese keep coming back for our products. We also offer a wide range of premium Chinese medicine, tea and wine. These are evergreen products that people buy no matter what the economic outlook is," says Tan.
On the other hand, Hai-O's MLM market is catered more towards the Malay market.
"Our MLM products have done well due to its quality. It delivers results to customers, yet is priced reasonably," said Tan, who at 80, looks extremely sprightly and trimmed.
When asked what he takes everyday to maintain his youthful looks, Tan says it's Hai-O's products such as the cordyceps and bamboo salt.
Meanwhile, Hai-O group chief financial officer Hew Von Kin says the nature of Hai-O's business is such that it does not require much capital expenditure.
"Some 60% to 70% of the business is transacted directly in cash. Setting up new retail outlets or introducing new products require a minimal capital outlay," he explains.
Hai-O is one of the biggest MLM companies in Malaysia with more than 52,000 active members and over 40 stockists and branches nationwide. Amway is the largest in Malaysia with approximately 240,000 active members.
Some 80% of Hai-O's members are ethnic Malays known as bumiputras and it has 2,500 members joining monthly.
At the same time, 60% of its active members are women, so not surprisingly, a bulk of the revenue contributors under its MLM division are its corsets and women-related products.
The focus on the Malay market has resulted in Hai-O achieving tremendous growth as the Malay population constitutes some 67% of Malaysia's total population.
While it has a few hundred different products, some 20% to 30% caters to the Chinese market.
"We have been able to recruit and attract new members because we offer an attractive commission scheme. We actually have one of the highest commission payouts of up to 67% of the bonus value of the product," says Hew.
Tan adds that the company has no plans to diversify.
"We will always focus on our core business, which is developing our healthcare products and continuously expanding the distribution network. We are looking to go regional and now have small set-ups in Singapore, Brunei and Indonesia," says Tan.
He adds that Hai-O is open to forming strategic alliances or joint ventures for its tea, wine and traditional Chinese medicine segment.
Established in 1975, Hai-O markets medicated tonic and wines, wellness and healthcare products, and offers clinical services.
Its three core pillars are multi-level marketing, wholesale and the retail business. MLM contributes some 60% of its business.
Results-wise, Hai-O posted a 10.76% drop in net profit to RM9.39mil for the fourth quarter ended April 30 compared to the same quarter a year ago mainly due to lower contributions from the multi-level marketing division and higher tax expense.
Revenue for the quarter under review increased by 12.68% to RM 70.43 mil on contributions from the wholesale and retail businesses.
The MLM division recorded a 9% drop in revenue to RM135.6 mil ($35 million) mainly due to a larger drop in the "big ticket" items despite an increase in the sales of the "small ticket" items. The wholesale, retail and other divisions recorded relatively similar revenue from the previous year.