Healthy Home Company Announces New President And Leaving Direct-Selling Structure
August 28, 2015
By Tina Williams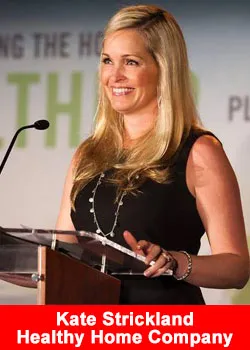 Healthy Home Company, a consumer product goods company that offers all natural, organic, and ToxicFree products for the body and the home, is pleased to announce the appointment of Kate Strickland as President.
Strickland was part of the launch team that architected Healthy Home Company's rise to become a premiere product manufacturer of ToxicFree personal care, home, and health and wellness products. In the two years she has been with the company, she has not only overseen the company's marketing and communications efforts as Executive Vice President, but she also has served in a corporate spokesperson capacity.
As President of the Healthy Home Company, Strickland will lead the organization through the transition from a direct marketing company and membership buying club to a traditional retail business model, a challenge Strickland finds thrilling.
We're focusing our efforts on what we do best – high-quality products made with safe, clean ingredients, delivered to your door for retail-competitive prices. It's what the Healthy Home Company was always meant to be.
Strickland has plans to refine the product line, launch several initiatives to get ToxicFree products into schools and doctors' offices, and develop a corporate charitable giving program.
I believe the changes that we're going to see from Healthy Home Company over the next few months are going to make a powerful ripple in the all-natural and organic products market. Kate is exactly the right person to lead this charge – she's a mom, she's an entrepreneur, and she really gets our consumers and their needs. We are fortunate to have her leadership and passion, says Ben Platt, Chairman of the Healthy Home Company.
Healthy Home Company offers all natural, organic, and ToxicFree replacement products in an effort to make the home a healthier place to raise the family.