Herbalife Q2 Revenue Down 11% To $1.2 Billion
August 6, 2015
By Team Business For Home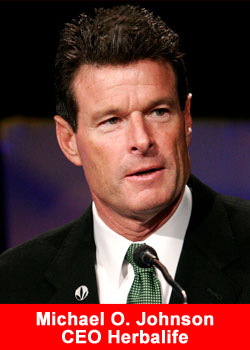 Herbalife Ltd. (NYSE: HLF) reported second quarter net sales of $1.2 billion. Local currency net sales grew by 1%, while reported net sales declined 11% primarily due to the continuing unfavorable impact of currency exchange rates.
Adjusted1 earnings for the quarter were $1.24 per diluted share compared to $1.55 per diluted share for the same period in 2014.
On a reported basis, second quarter net income was $82.8 million, or $0.97 per diluted share, compared to $119.5 million, or $1.31 per diluted share for the same period in 2014. Second quarter 2015 diluted EPS was negatively impacted by a $0.412 currency fluctuation.
For the quarter ended June 30, 2015, the company generated $197.6 million in net operating cash flow, and invested $16.2 million in capital expenditures.
The company is raising its adjusted diluted EPS guidance for the year to a range of $4.50 to $4.70, from the previous range of $4.30 to $4.60.
Michael Johnson, chairman and CEO, stated, The second quarter continued the improving trends we saw in the previous quarter in terms of sales volumes and key sales leader metrics, and we believe we will see these positive trends continue through the second half of the year.
Johnson continued, Our Members around the world are more excited and engaged than ever as we invest in innovative new products and enhance our marketing and infrastructure to support their businesses and ensure we are putting customers first in all we do. We continue to see what we believe is the positive impact of the changes we implemented and remain confident that we are creating an even stronger platform for sustainable growth that will deliver long-term value for our shareholders.
Second Quarter and 2015 Key Metrics3,4
Regional Volume Point and Average Active Sales Leader Metrics
Volume Points (Mil)

Average Active Sales Leaders

Region

2Q'15

Yr/Yr % Chg

2Q'15

Yr/Yr % Chg

North America

305.4

-9%

75,856

0%

Asia Pacific

271.2

-15%

75,051

0%

EMEA

228.3

4%

71,221

26%

Mexico

219.9

-5%

64,600

0%

South & Central America

173.1

-16%

57,868

-7%

China

164.0

38%

23,906

28%

Worldwide Total
1,361.9
-5%
356,357
5%
Regional Net Sales and Foreign Exchange (FX) Impact
Reported Net Sales

Growth/Decline

Growth/Decline

Region

2Q '15 (mil)

including FX

excluding FX

North America

$

230.0

-8%

-8%

Asia Pacific (ex. China)

$

239.1

-22%

-17%

EMEA

$

193.8

-15%

8%

Mexico

$

129.2

-13%

2%

South & Central America

$

133.5

-34%

0%

China

$

236.7

39%

39%

Worldwide Total
$
1,162.3
-11%
1%
____________________
1 See Schedule A – Reconciliation of Non-GAAP Financial Measures for more detail.
2 Excludes the impact of Venezuela price increases tied to foreign exchange rate movements.
3 Supplemental tables that include additional business metrics can be found at https://www.ir.herbalife.com.
4 Worldwide Average Active Sales Leaders may not equal the sum of the Average Active Sales Leaders in each region due to the calculation being an average of Sales Leaders active in a period, not a summation, and the fact that some sales leaders are active in more than one region but are counted only once in the worldwide amount.