iNovaLife – Management Interview
August 16, 2015
By Team Business For Home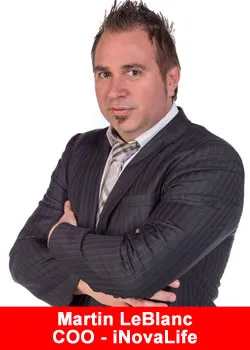 iNovaLife is a young and dynamic company whose mission is as noble as innovative. In an effort to improve people's quality of life here, they have developed a tool completely free, which offers the consumers the opportunity to realize significant savings on a range of services.
iNovaLife's mission is to save thousands of dollars to families on their insurances, their mortgages, their credit cards, as well as their renovation project. The company allows you to save through a secure platform and no user fees. You just need to have been invited by an affiliate promoter. It's simple, easy and efficient.
Ted Nuyten had the honor to interview Carlos Rey Vice-President Of Sales, and Martin LeBlanc, co-founder and COO iNovaLife and Martin Giroux, CEO.
Carlos has created one of the largest direct selling organizations in the history of direct sales. He has reached the top position of two of the world's largest direct selling companies in record time.
Gents, how did you came up with the idea to start iNovaLife?
iNovaLife was founded in 2014 from 2 young entrepreneur with different background. The project was to compete with the best online price comparator in canada and USA on their own ground, with traditional media and online marketing. Our market studies showed us that the canadian and US market was still having room for a player since those niche online market are presently occupied by insurance and financial firm instead of beeing lead by firms specialized in content monetization & advertising solutions on the web, wich gives us a big advantage… knowledge
iNovaLife is the first company worldwide that have created a bridge between 2 industries that never have been linked before: The online price comperator and Multi Level Marketing.
It tooks us 18 months to build the platform with the best IT firm in Canada. Millions have been invested so far in the iNovaLife product. Its now time We now have everything in place to consolidate our Canadian presence and are ready to execute our international expansion.
How did you fund the company?
The company was funded by a private round of investment.
How did you team up with Carlos Rey?
iNovaLife have been in the process of interviewing several TOP EARNERS from different opportunity for the last 6 months in order to appoint our VP of Sales. We were looking for a genuine leader. We had very big players looking for the position and we finaly met with Carlos Rey on the process.
We decided to go meet the man in South Beach, Miami. We connected right away on every level, professionallyand personnaly. We knew we found our man! The rest is history in the making!
Why a Direct Selling compensation plan, what is the advantage for a promoter?
Many reasons why iNovaLife in particular stands head and shoulders above the rest. In over 25 years in this industry I have been approached by many, many companies. Starting with the co-founders (Martin Giroux and Martin LeBlanc) they truly care about the success of others, not just lining their pockets with money as I have found oh so many do.
Starting with personal development. We have a real personal development system that helps people in every area of their life. Second a painstakingly detailed duplication system for people with no experience in sales or business, simple to follow, if consistent and follow directions, I can almost guarantee their success. That back by a office support to the likes I have never seen in the past.
Are you planning to expand to the USA or international?
Absolutely. I have had the privilege and honor to have launched 23 countries in my career which I know has been practice for this moment in time. Have developed systems for International expansion and not only customize for each countries particularities, but I stay with the people, not only to learn their ways and customs, but however long it takes until TEIR success has been achieved!!
What can you tell us about iNovalife's concept?
iNovaLife is the first company to combine the online comparators sector and the affiliate program. Its success depends on the contribution of men and women of all ages who want to create change, in order to improve our collective quality of life
Its comparators let you shop in a fraction of seconds to find the best quote for your Insurance, Credit card rate, Mortgage and construction and renovation. iNovaLife offer users the possibility save hundreds of dollars per year. In addition, any person who shares their experience with people around them receives a referral bonus when the latter request an insurance quote. iNovaLife is dedicated to make people save money, while allowing them to make others benefit from it.
Is the competition tough?
Really when somebody takes a real look at all we have to offer from support to income opportunity to personal development and many thigs I've already stated, no company even comes close. There's no mistaking all the effort that has been put in and constantly grows for a families success.
What are your plans and goals for the future?
When you absolutely love what you do and have found your real purpose in life, helping families improve their life personally, financially so their can spend more quality time with each other! The rewards one feels no words can describe. I know my entire life and my careers experiences has been for this moment in time!!
About iNovaLife:
Using iNovaLife is free, quick and easy to use. Start by choosing a product to compare – insurance, mortgages, credit cards or renovation. Our trusted partners will subsequently put you in touch with the company that offers you the lowest market price or rate. For more information please visit: Corporation iNovaLife Inc